Traveling to Iran by bike was very intense! It is one of those travels where you meet a civilization with infinite richness, mysterious and fascinating, in the heart of the past greatness of the Persian Empire. We discovered a developed country, roads in good condition, drinking water almost everywhere, no significant problem with people saying "Hello Mister" and "Welcome to Iran" ten times a day.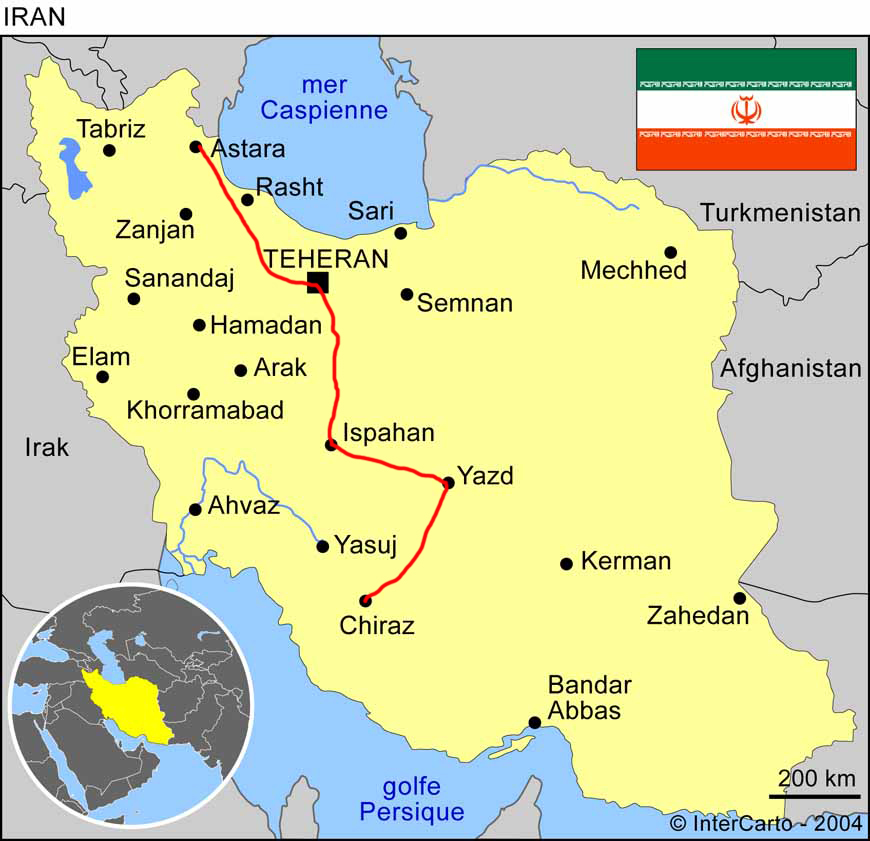 We first had to get used to wearing a scarf (for women), long sleeves and covered legs, quite restrictive especially when traveling by bike, but having the advantage of protecting from the sun. Drivers drive like crazy, especially in town. The opening of this long-closed country attracts more and more tourists. But the Islamic Republic continues to maintain an iron fist over its people who are drowning in prohibitions.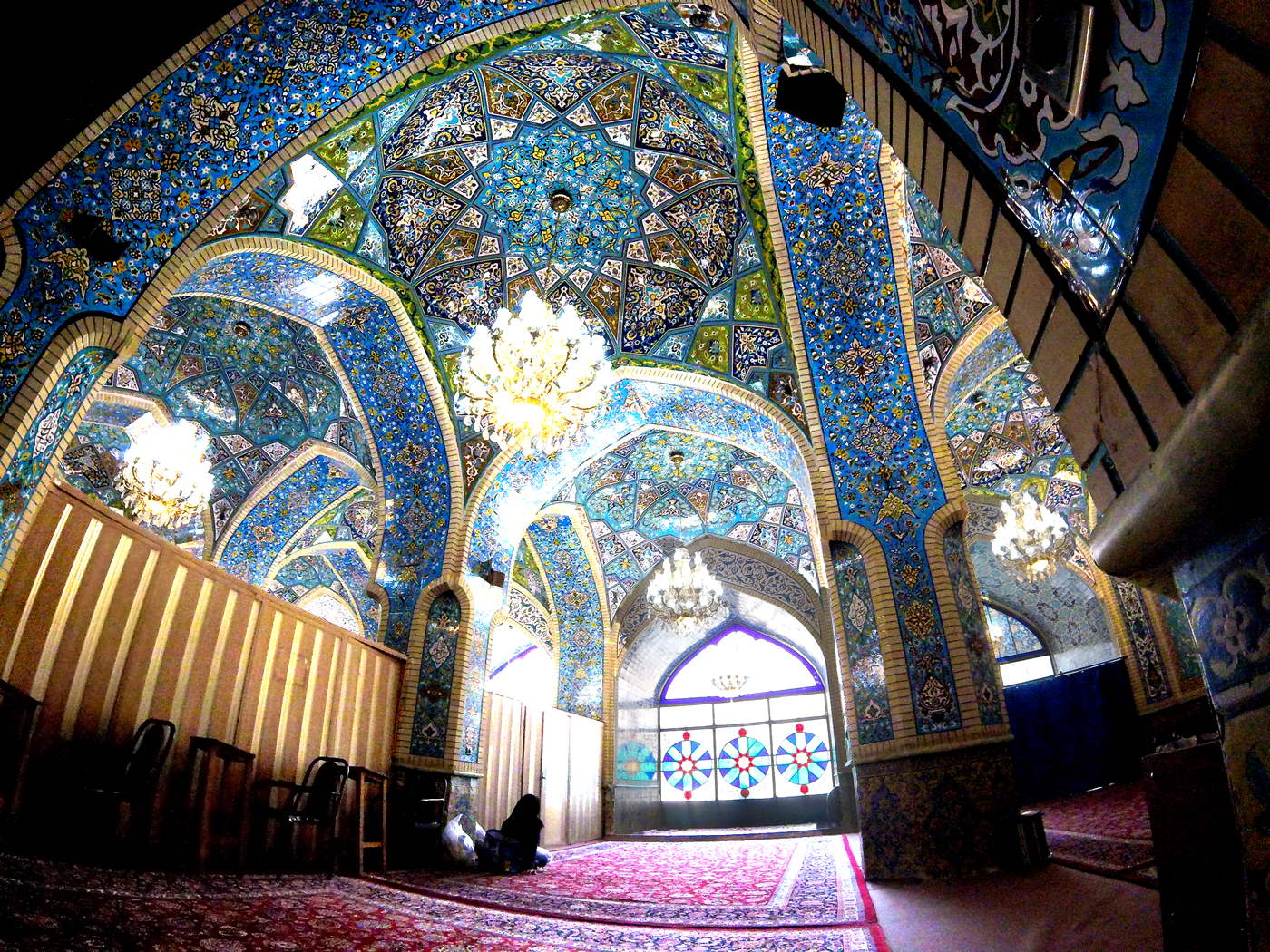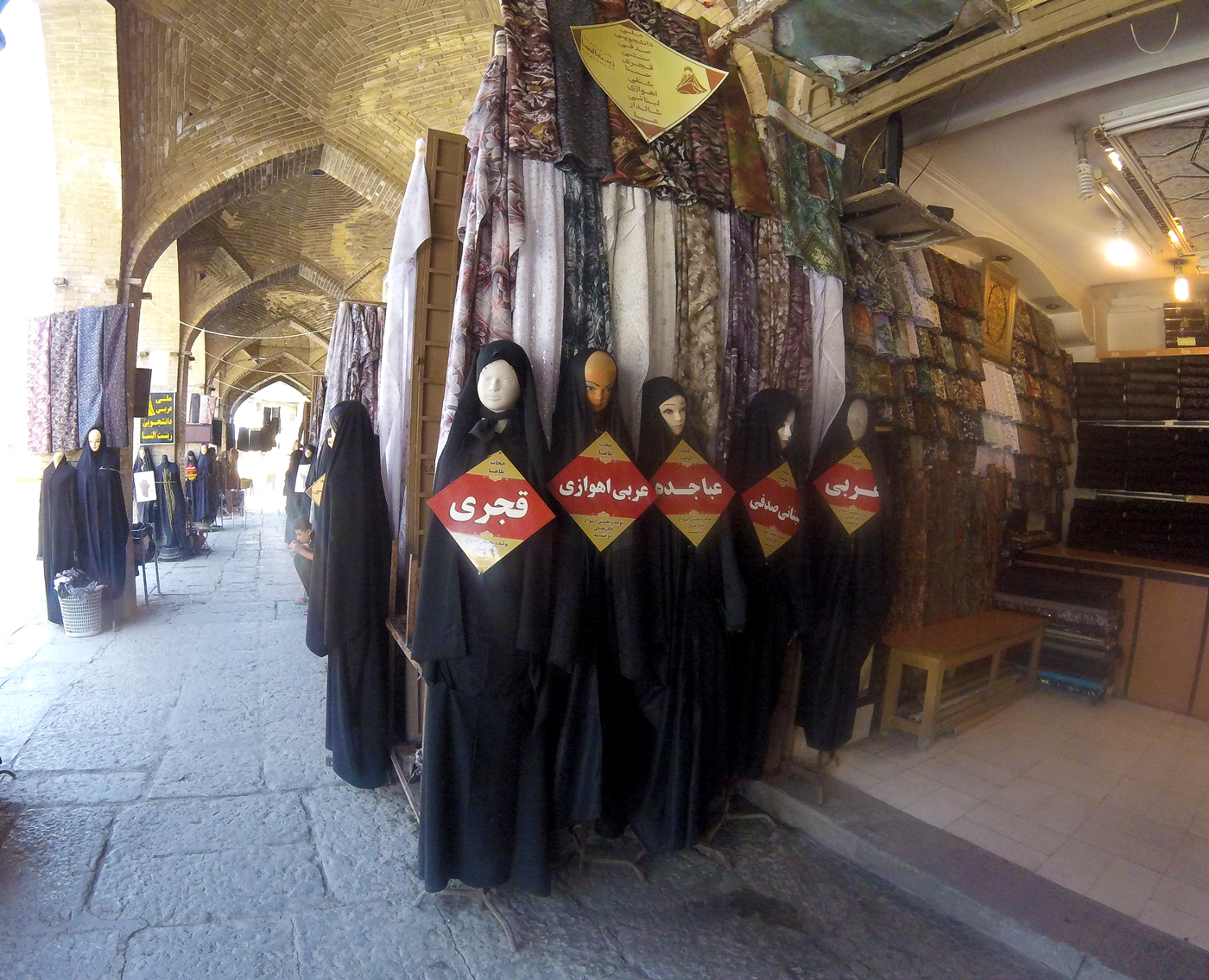 One day Farzad, our host in Tehran, said: "The only thing we can do here is breathe!" He dreams of living in Germany. However, clandestine festivals and private parties are discreetly organized by a youth in thirst for freedom. Because in Iran, anything is possible, like getting alcohol for example via contacts on social networks. The Iranian population is young, 60% have less 30ans, and a large majority of Iranians do not like at all the power in place.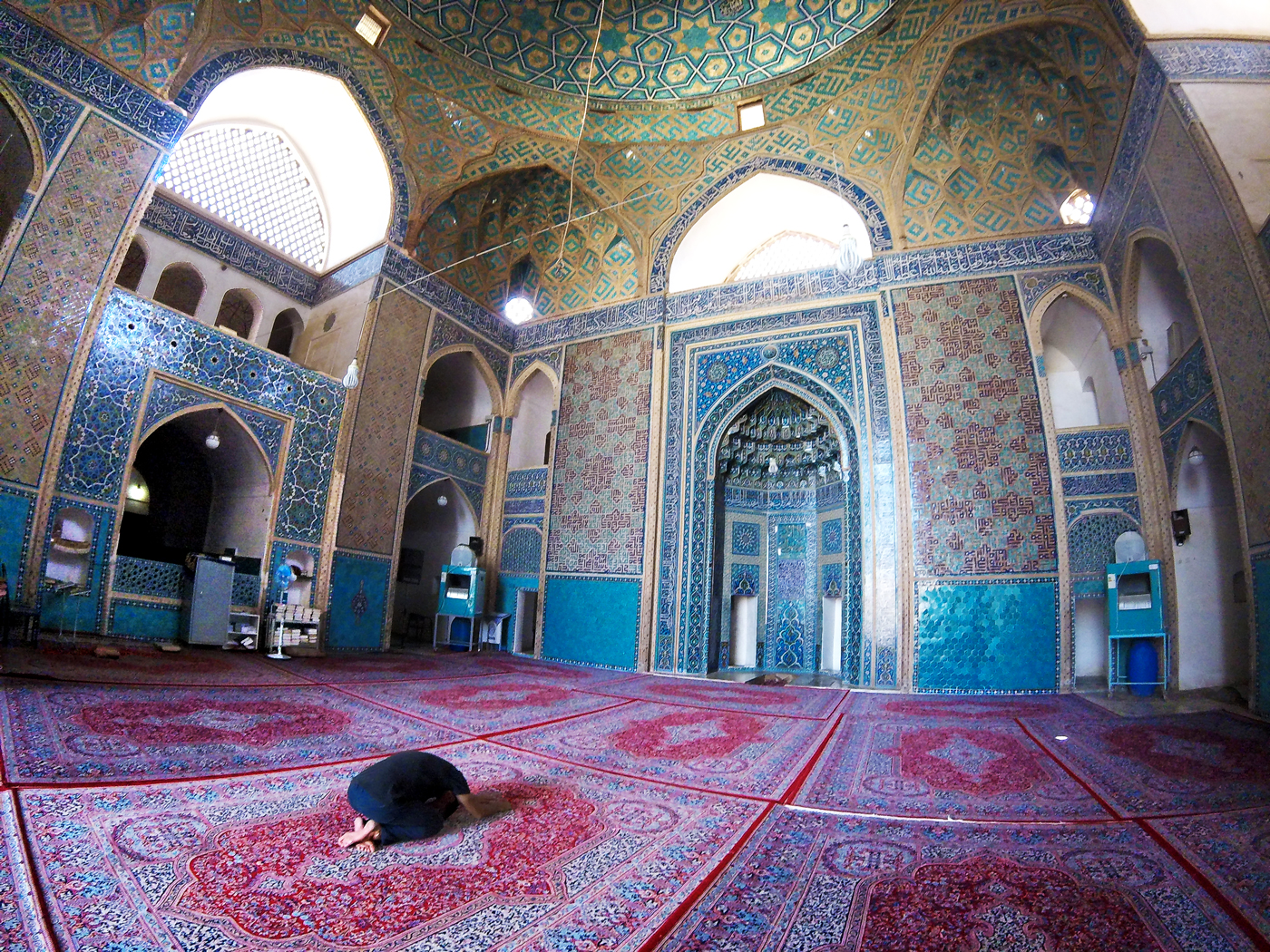 Here everything is ringleader more than anywhere else. All places to visit (mosques, gardens, palaces, etc.) have a price for Iranian and a tourist price, two to ten times more expensive. The current monetary situation of the country is deteriorating strongly, the Iranian rial is only losing its value and is no longer worth much. So there is an official exchange rate, on the Internet, and an exchange rate that applies in the street or some exchange offices and that is twice as high, so be careful not to be had!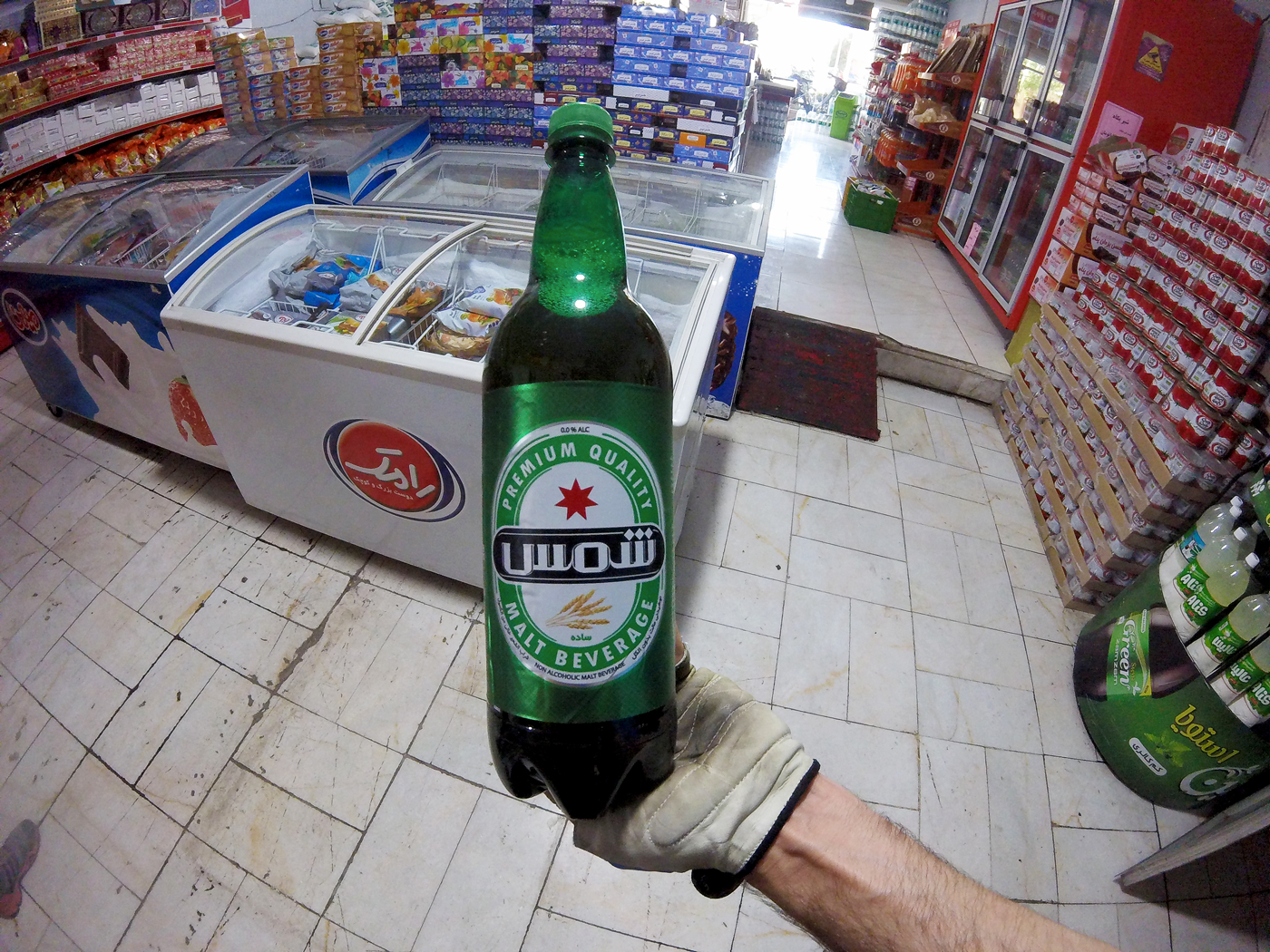 For information, during our stay, 1 euro is worth 9 000 Toman (90 000 riyals) and $1 US is worth 8 000 toman. Here people speak in Toman, the old currency, and not in rial. A good place to change is the Ferdowsi square in Tehran, at the exit of the Metro. You have to watch out for counterfeit bills. It is also possible to make changes throughout the country.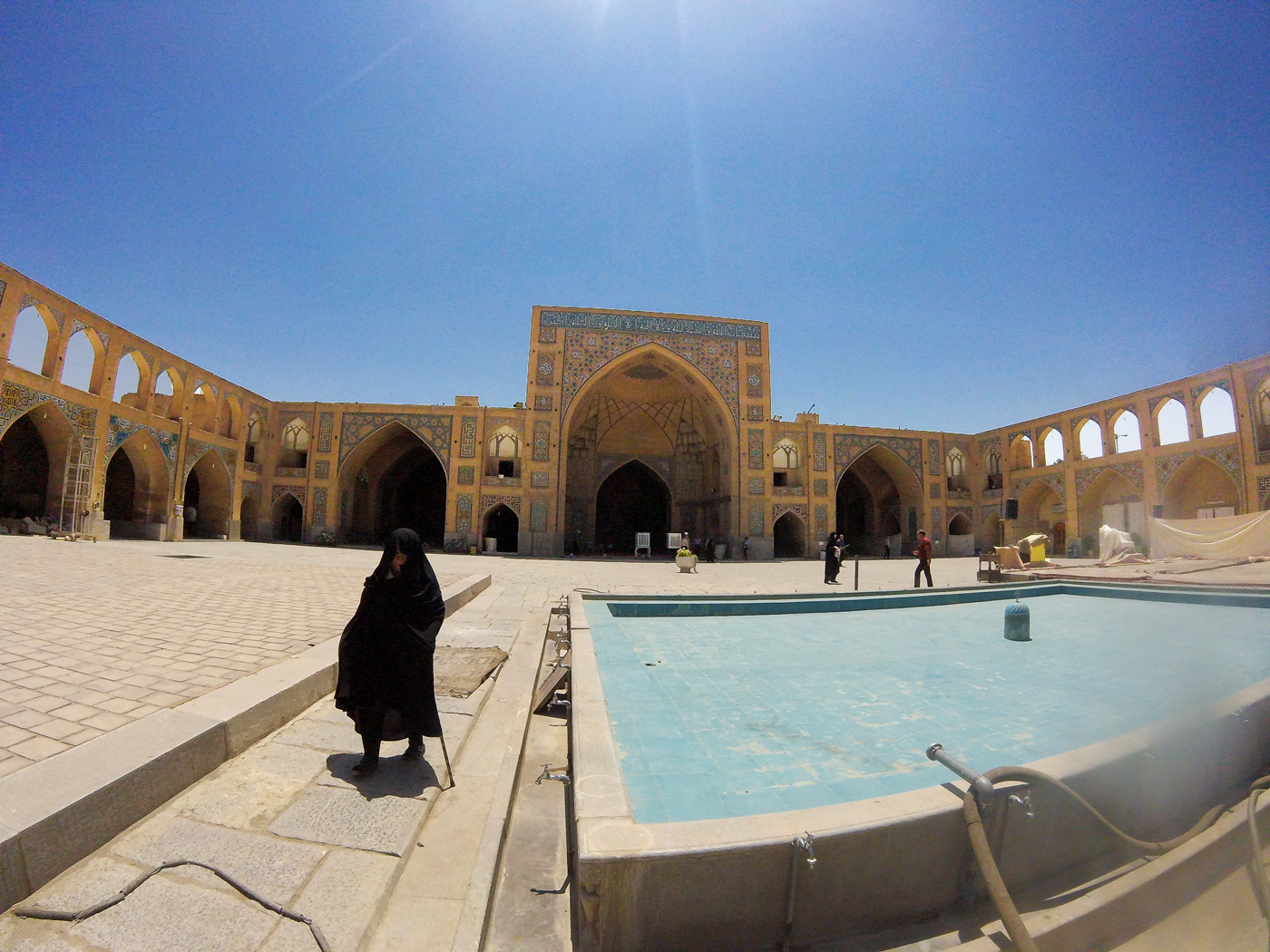 We fall on the first day on a Korean cyclist who has been cycling in Iran for almost three months with whom we discuss a little and who tells us a park where to camp for free this night. We resume the road and the evening begins to point the tip of his nose. We are in a hurry to arrive before the night falls. But barely lost, by stopping to do some errands, people come to talk to us, curious to know where we came from.
Then one of the traders asks us if we have a hotel for that night. We explain to him that we intend to sleep donate our tent. He then insists by answering "No, hotel, hotel"! We answer him again "no, tent" and this little game lasts a few minutes because the trader does not drop anything and fetch his phone to find us a hotel. Annoyed, we decide to leave having wasted enough time, especially that the night is this time indeed fell.
Arriving in front of the park entrance, at the end of this grueling day, after a few minutes of pointless discussions, we are asked for money to camp. Tired and no longer having the strength to discuss, we go a few meters farther to put camp and finally be able to sleep!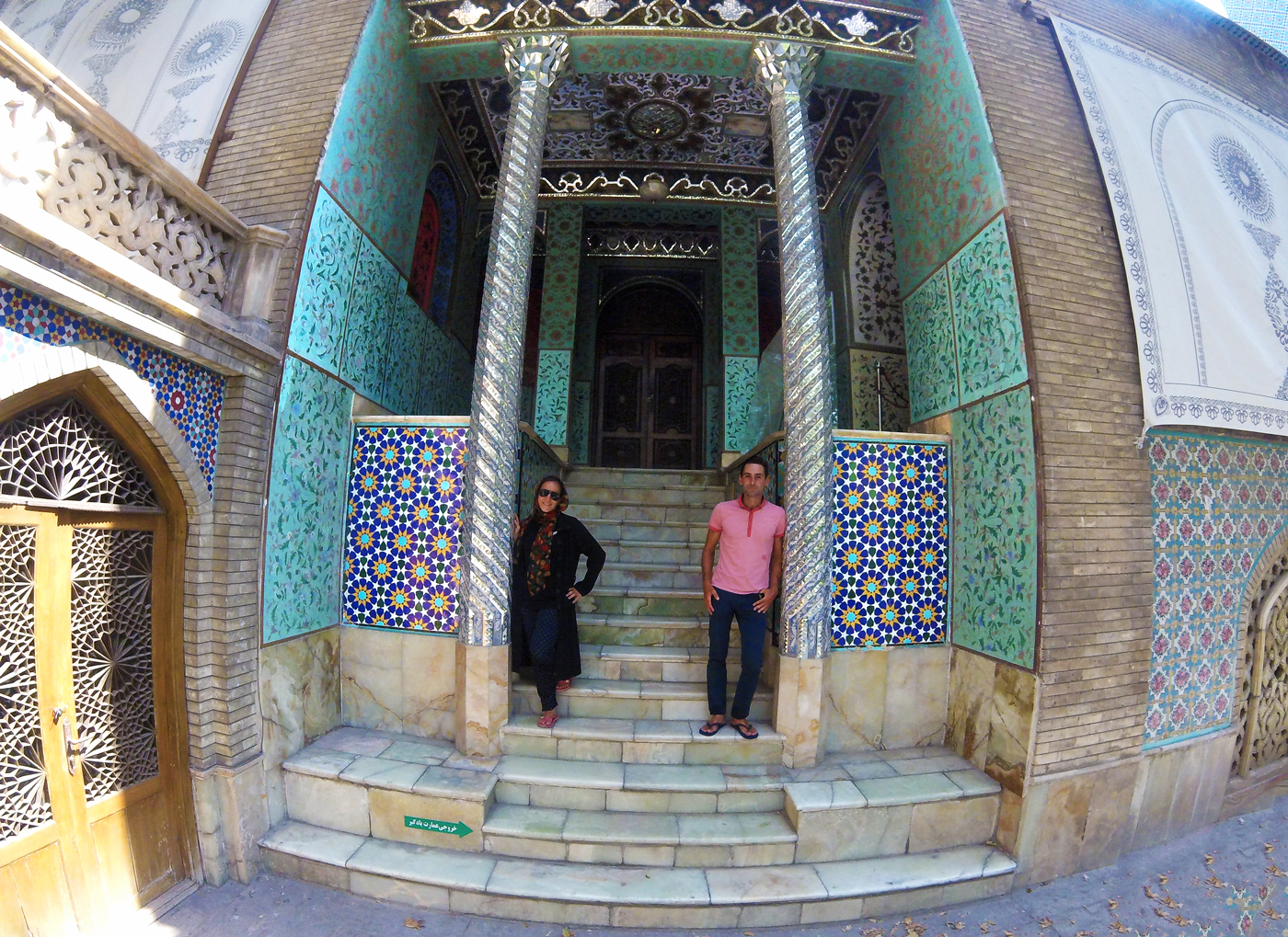 Throughout our journey, we will live many times the situation where Iranians want to help us without giving us the choice and in the end make things a little more complicated. We have of course heard about the "legendary hospitality" of the Iranians. But there is one thing that has taken a long time to understand is the notion of "taarof". Iranians often say things they don't think. For example, inviting you home often turns be just a polite formula.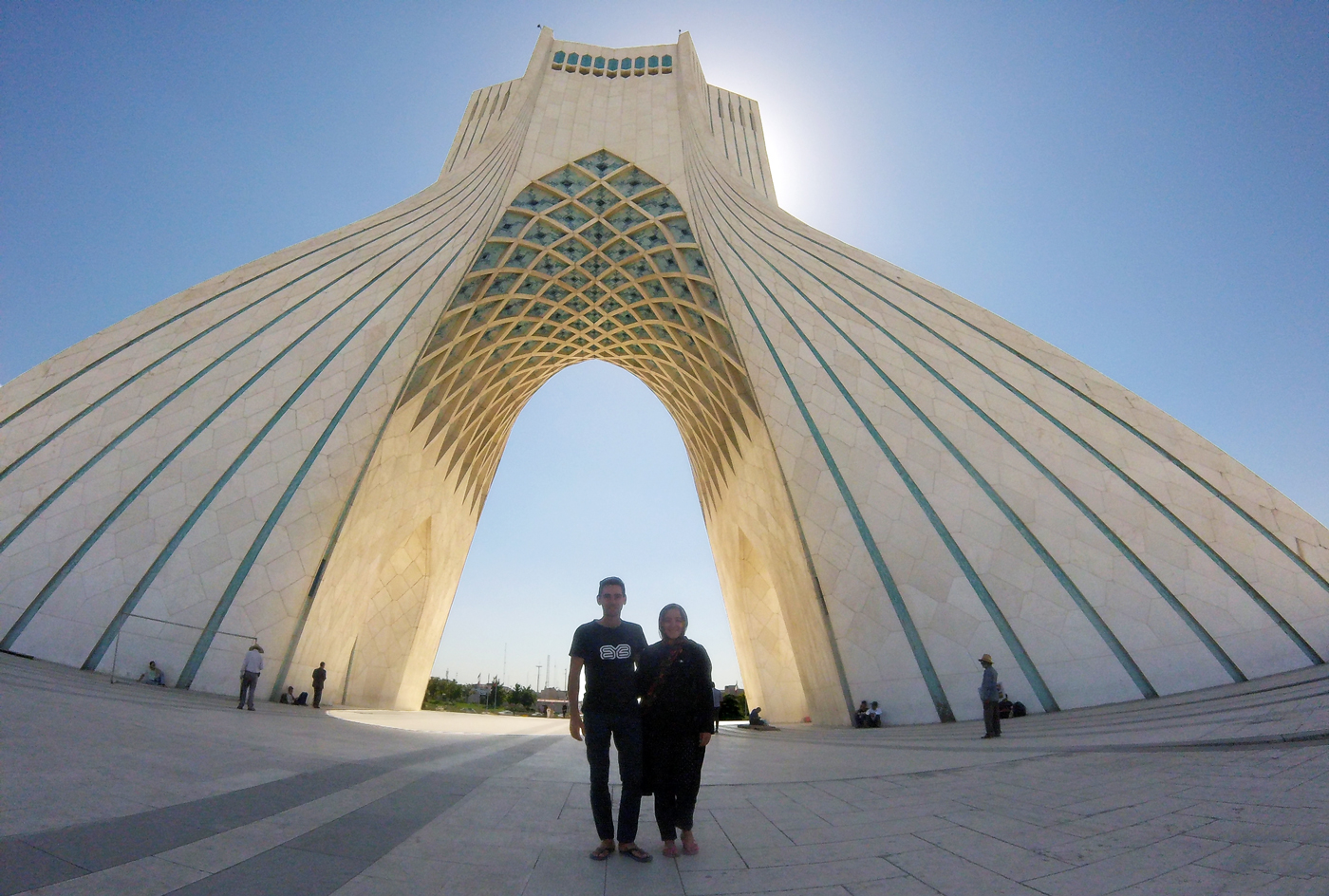 As we have only one month of visa in the country, that there are hundreds of kilometers of desert to travel and that temperatures reach the 40 ° in this season, we quickly made the decision to hitchhike. Nothing easier here, the vans stop immediately and take us without hesitation even with our bikes.
This is how we meet Nasrie and Mahe, who install us during 250km in the back of their van and invite us to come to their homes in Tehran. At Mahe, Nasri and their three children, we are constantly offered tea, fruits, chocolates and food. They refuse to make or pay anything. They set us up in the room and they sleep together in the living room. After breakfast, Mahe is waiting for us to take a tour by car to the main tourist attractions of the city that we mentioned, insisting every two minutes to take a picture.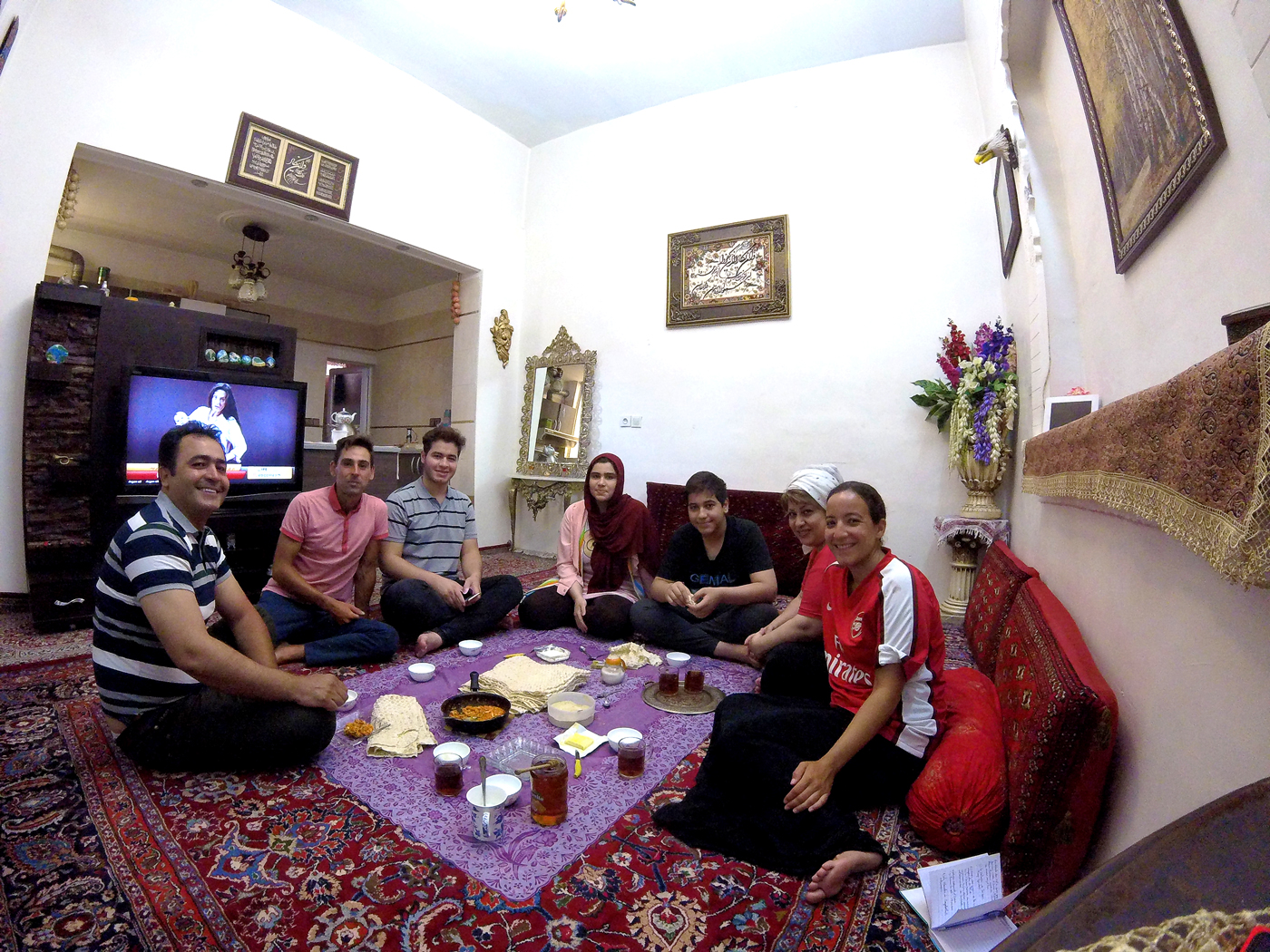 The kindness and hospitality of this family seemed really sincere and selfless. In the third morning yet, when hardly waking up, Mahe already ready to go out awaits us again and insists to take us with him, we begin to feel annoyed. It makes us understand that we are taking the bike ride this afternoon. Why did he decide that we were leaving today without asking the question? Why is his wife and children still at home and lug us all over the city? Why do we have to come in the morning, go with him where he decided?
Well what was not our big surprise when they kindly ask us to pay them $200 for our stay at home, the trips made and the numerous visits. We're like, "God, these people saw the virgin! Or rather, the Ayatollah "(Ayatollah = highest title in the Shiite hierarchy, considered an expert of Islam). We are entitled to: "There is nothing without money in the world, I drove you everywhere, without me you would have slept outside" or even "if no money, more friendship", etc…. Of course, we refuse to pay what he asks of us and fold quick baggage when we understand that ultimately they only want our money. Unfortunately, this unfortunate experience leaves us with a very bitter taste and we become very suspicious of all Iranians.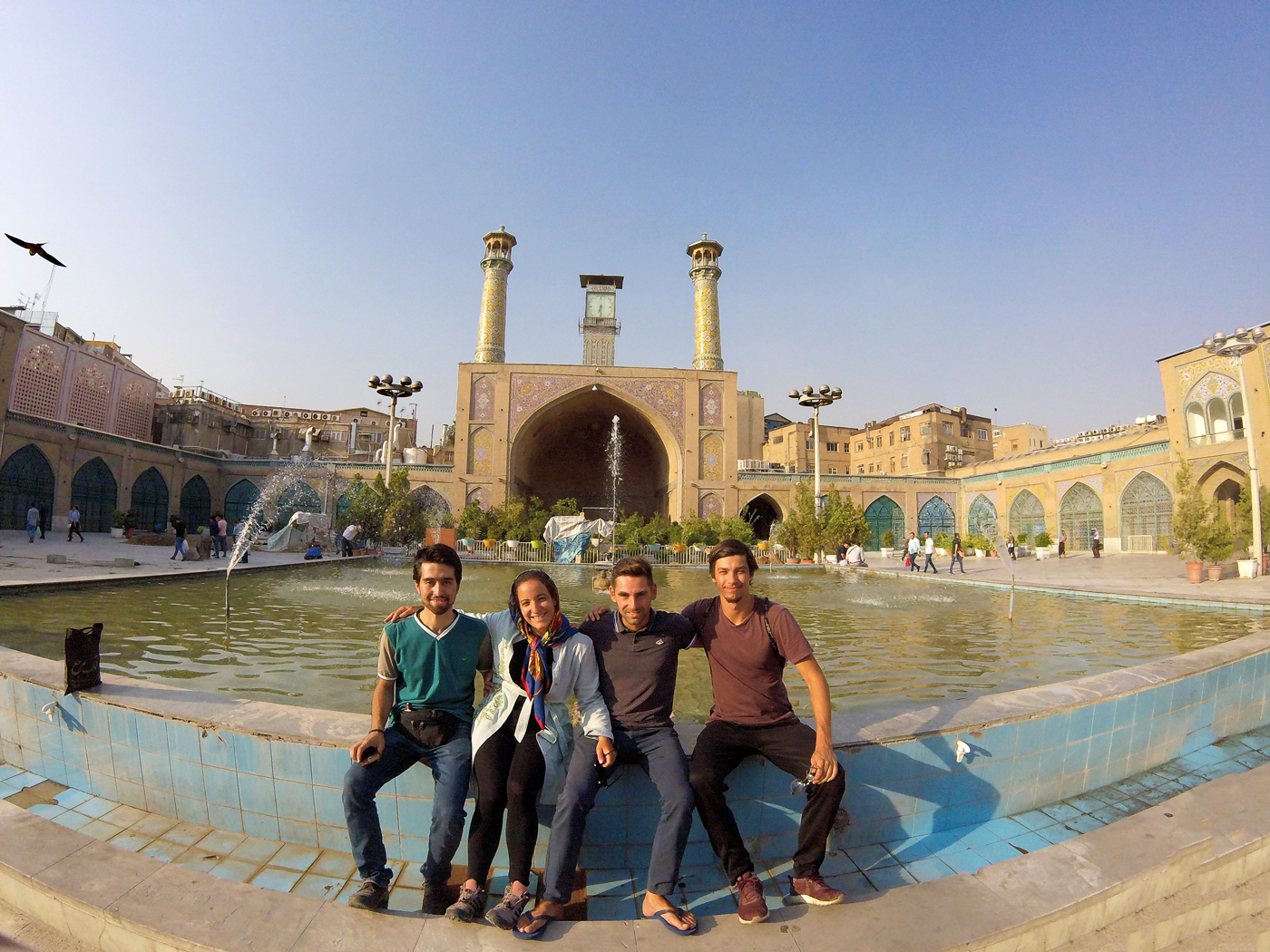 We therefore decide to use mainly the Couchsurfing and Warmshower sites (more reliable sites to contact the premises that host you at home). After our mishap, we find refuge at Farzad, a very friendly young student. He also welcomes Vincent, a 23-year-old Dutchman who travels hitchhiking. Vincent advises us before getting into a vehicle, to say three times to the driver "Madjani", which means "free" in order to avoid any unpleasant surprises.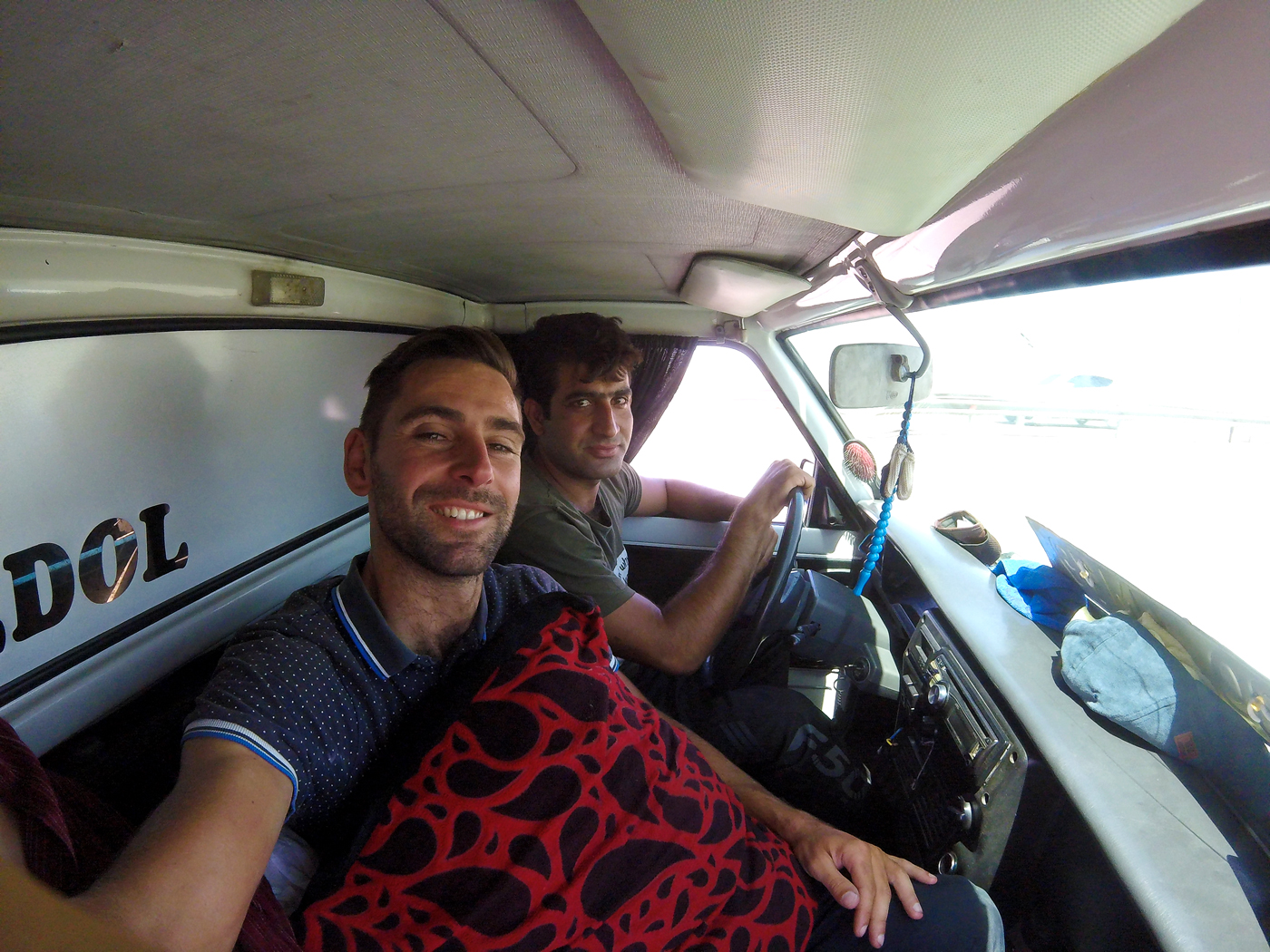 We then want to buy a phone chip to have Internet, because finding Wifi in the country is complicated, but as a stranger, it seems difficult (we could not get one with our passports as a stranger). Farzad helps us without hesitation and opens a flea in his name. It is also important to install on your phone or computer what is called a VPN to be able to surf the net without difficulty, otherwise most sites and social networks are blocked.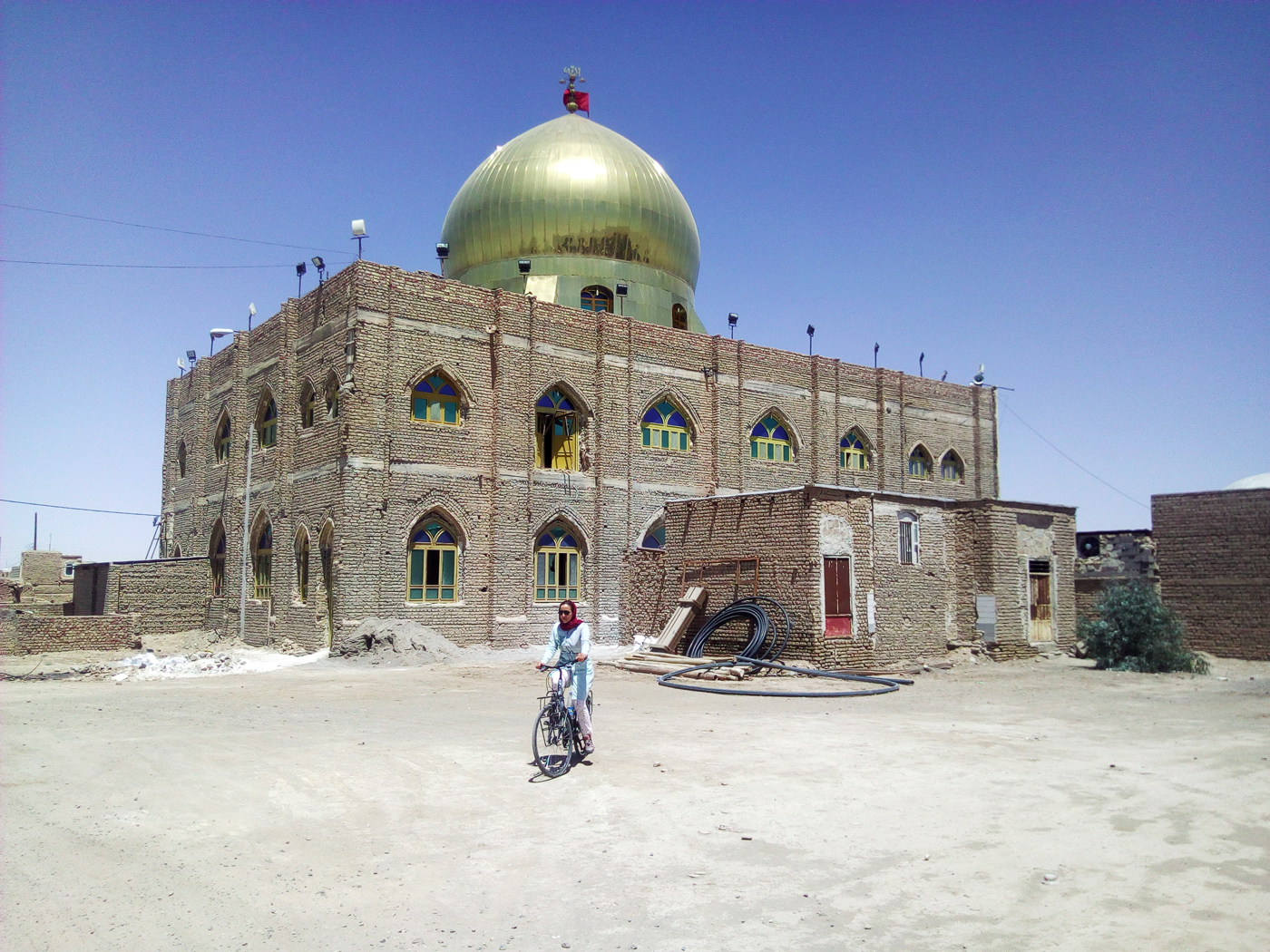 We are not fans at all from Tehran, very polluted and dense. So we go down to the south and we begin to appreciate the beauty and splendor of the country. We were planning to stop in Qom, the second most visited holy city in the country. The sanctuary of Fatima Masoumeh, sister of one of the twelve imams recognized by the Shiites as the successors of the Prophet Muhammad, is there. But everyone advised us not to, the city being far too religious. So we decide to go directly to Kashan, a small town with a great charm. But even in Kashan, our guests are a bit ' special ' and we even talk about ' white wedding ' to be able to go to Europe.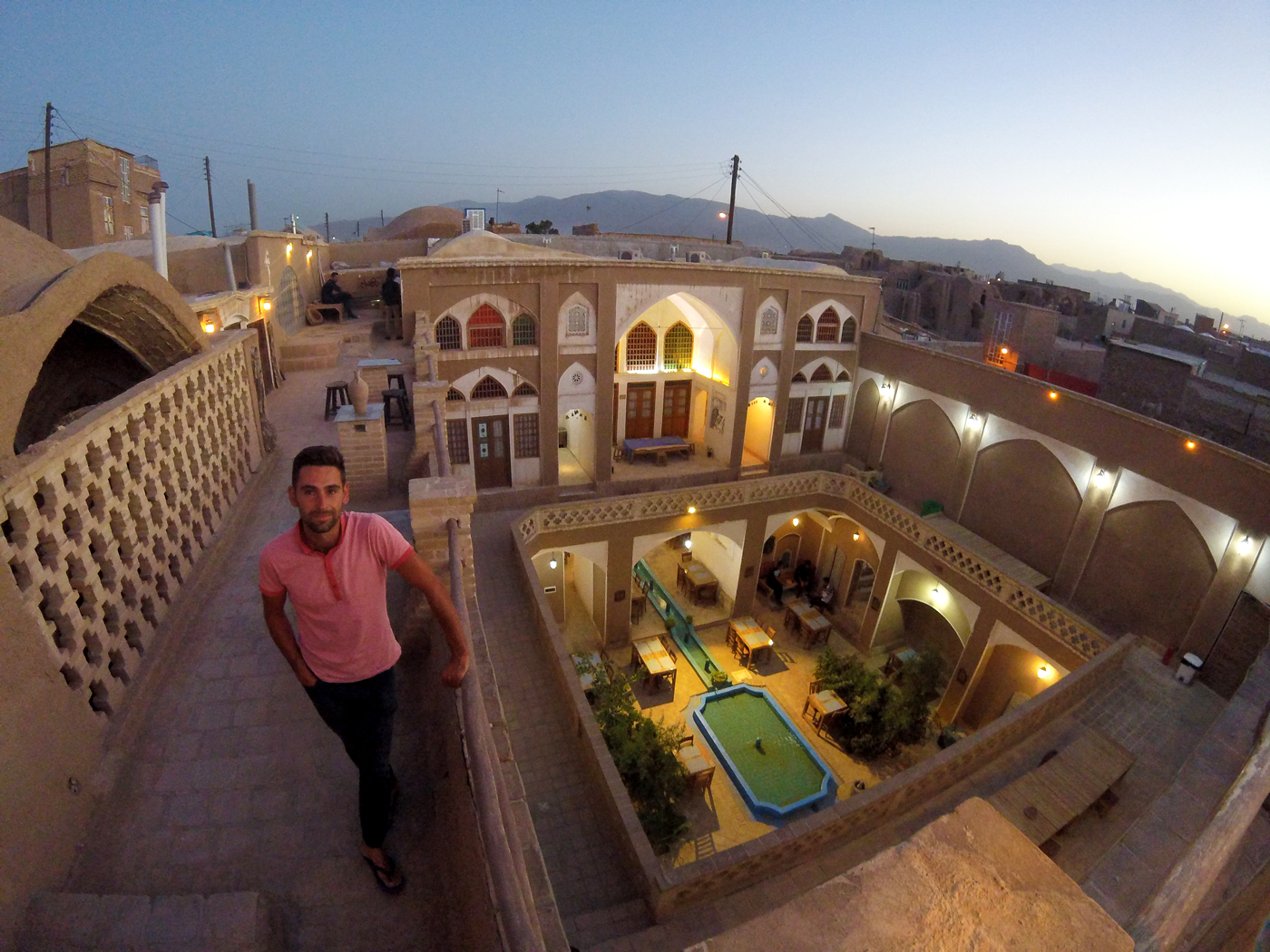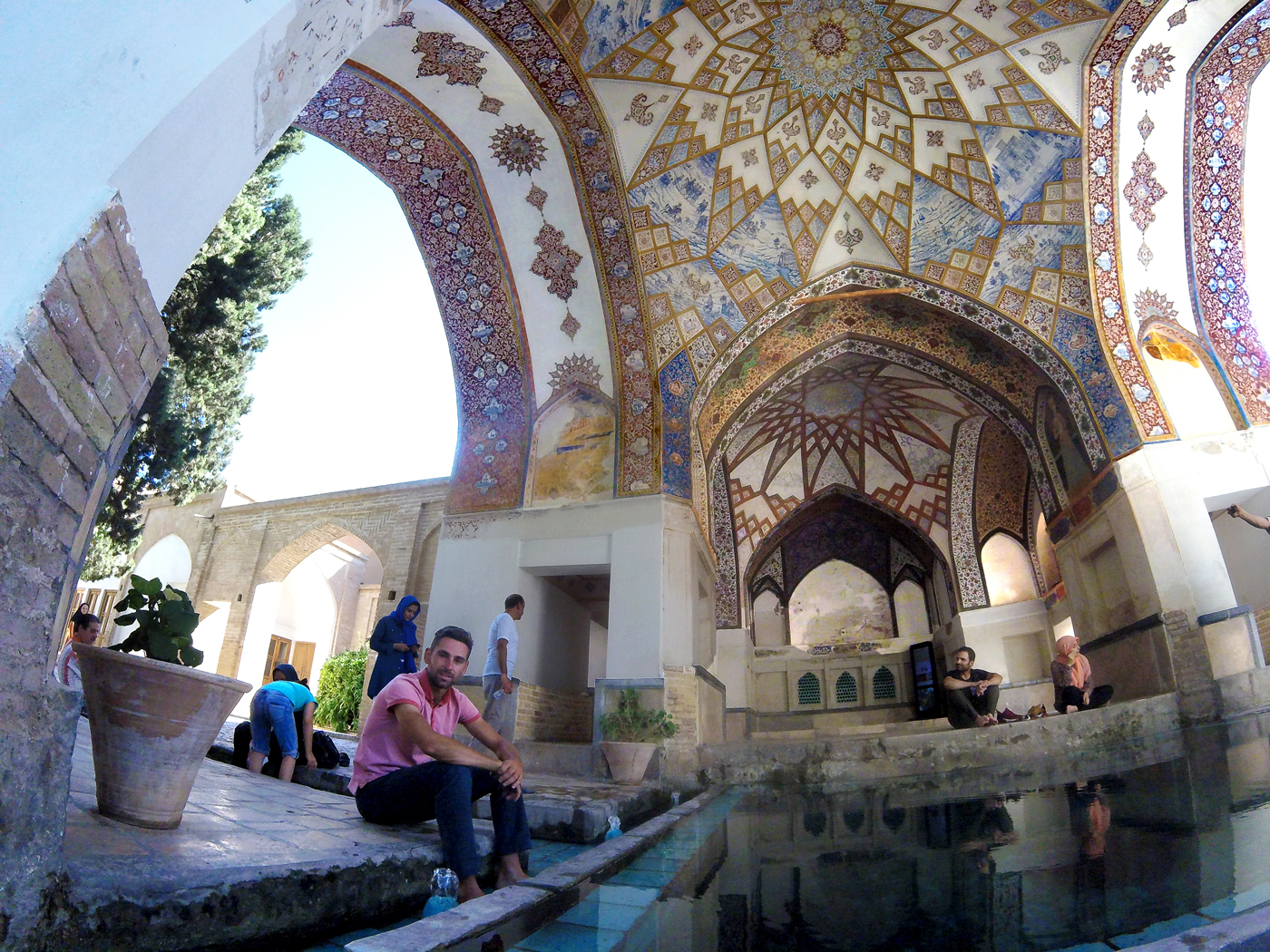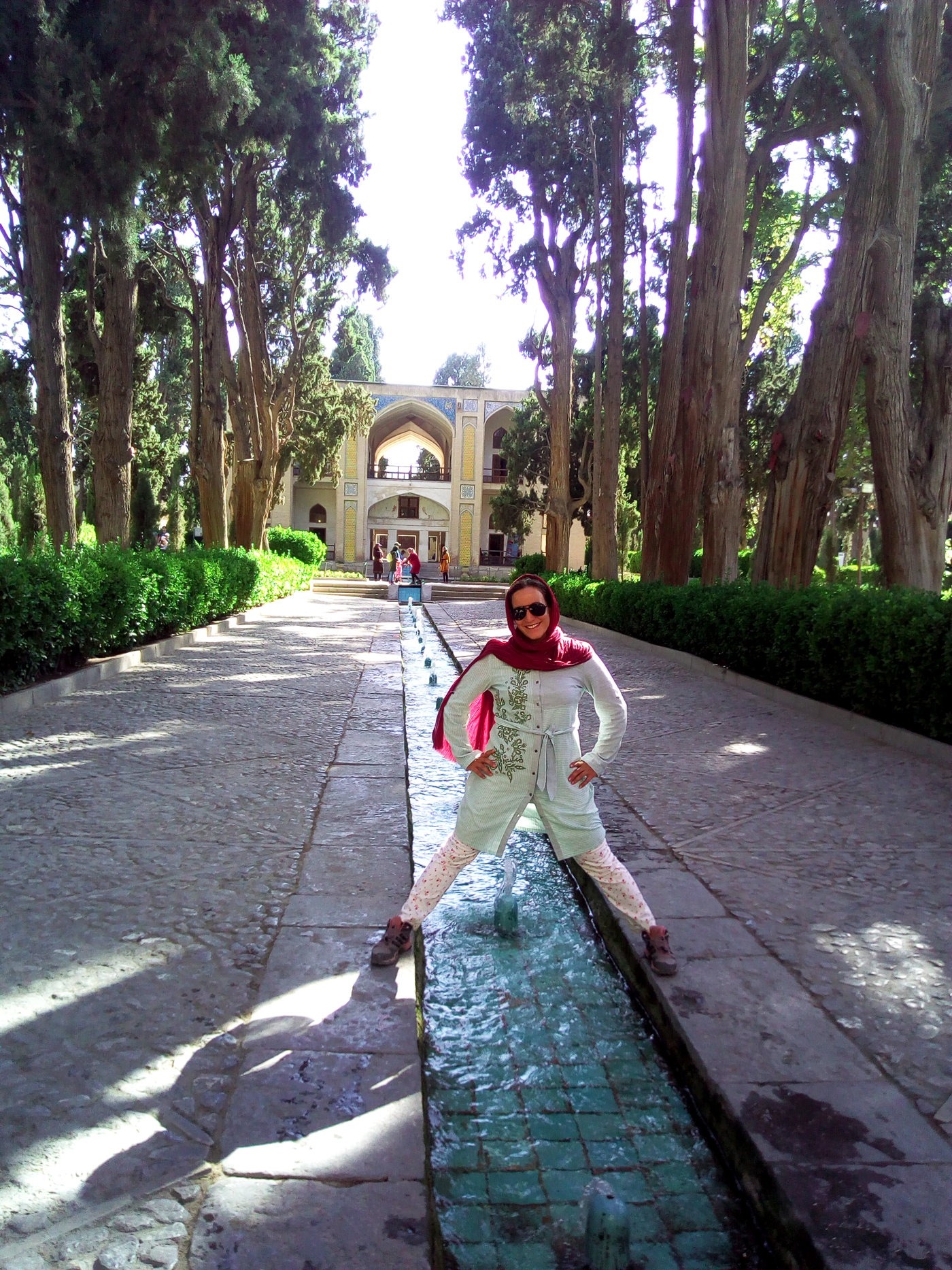 On the gastronomy side, it is difficult to vary the pleasure, the kabab (meat skewers) accompanied by yellow rice with saffron seem to be the only meal we can find. On the architecture and landscape side, Iran is a real marvel. The blue turquoise mosques with meticulously detailed geometric decorations and mosaics are grandiose. They are overlooked by a majestic dome and have a huge courtyard and two minarets.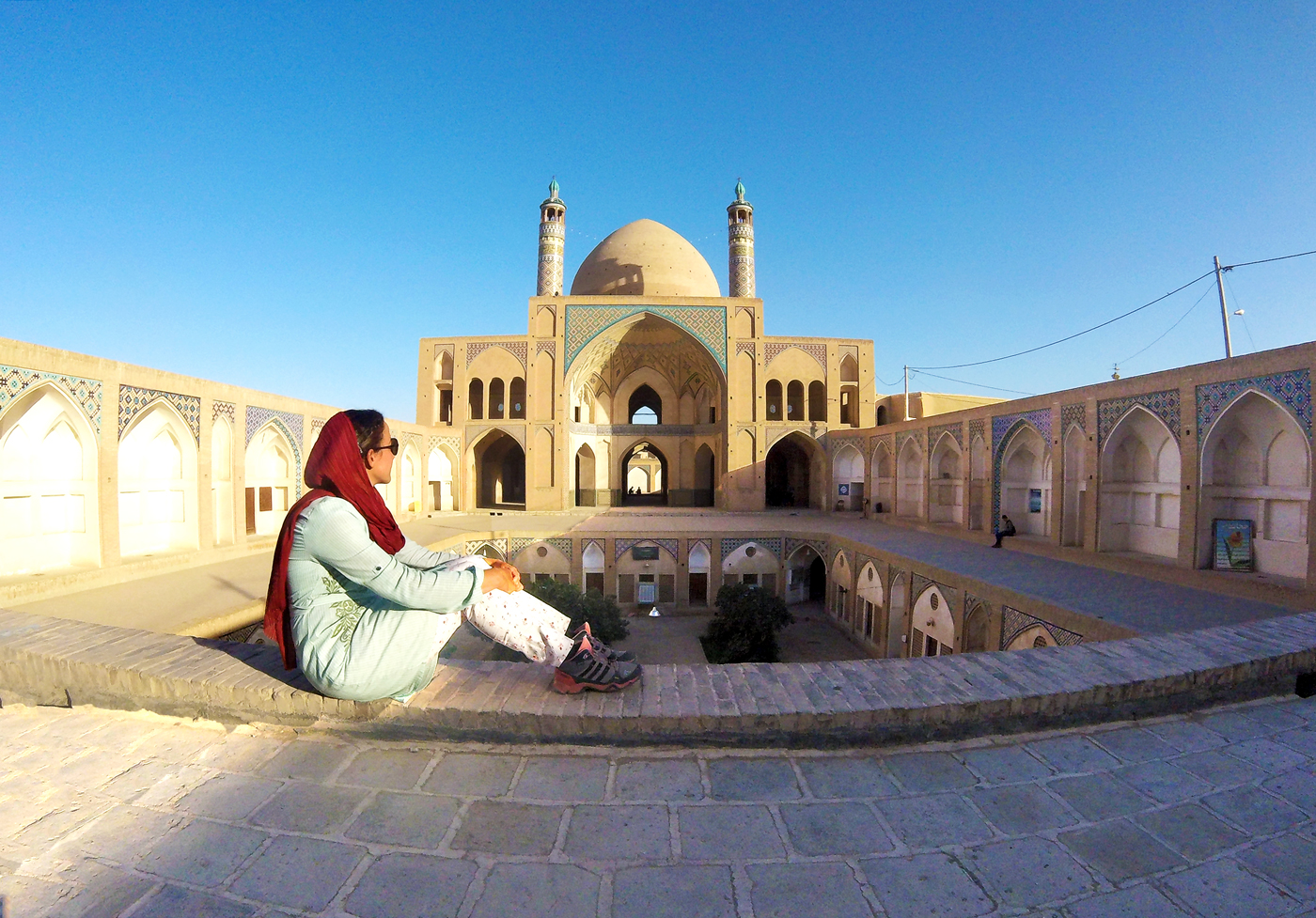 In Isfahan we spend a great time at Maha. The city is very nice and one of our favorite in Iran. There are bike paths and a lot of people who are cycling, a big first!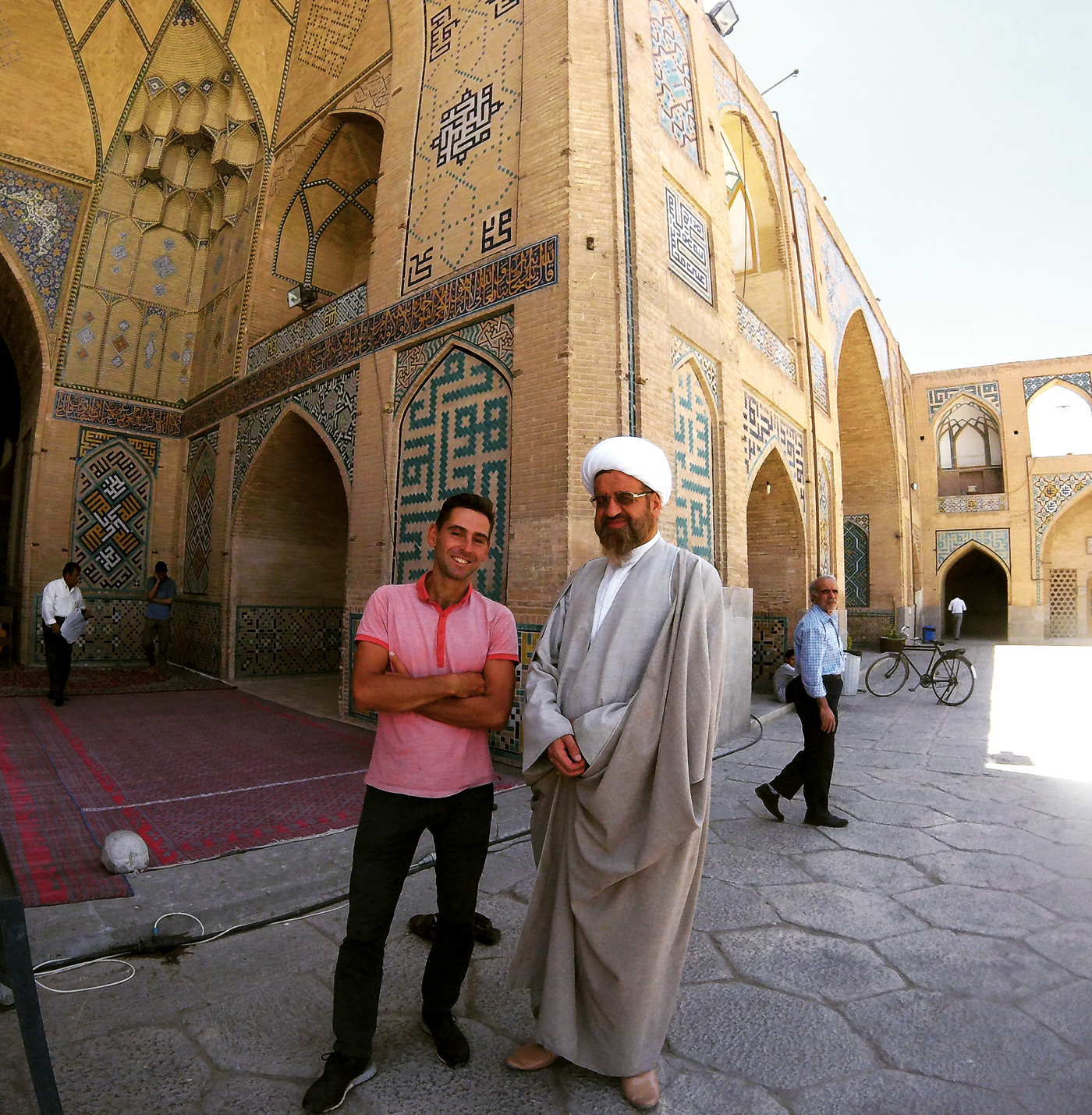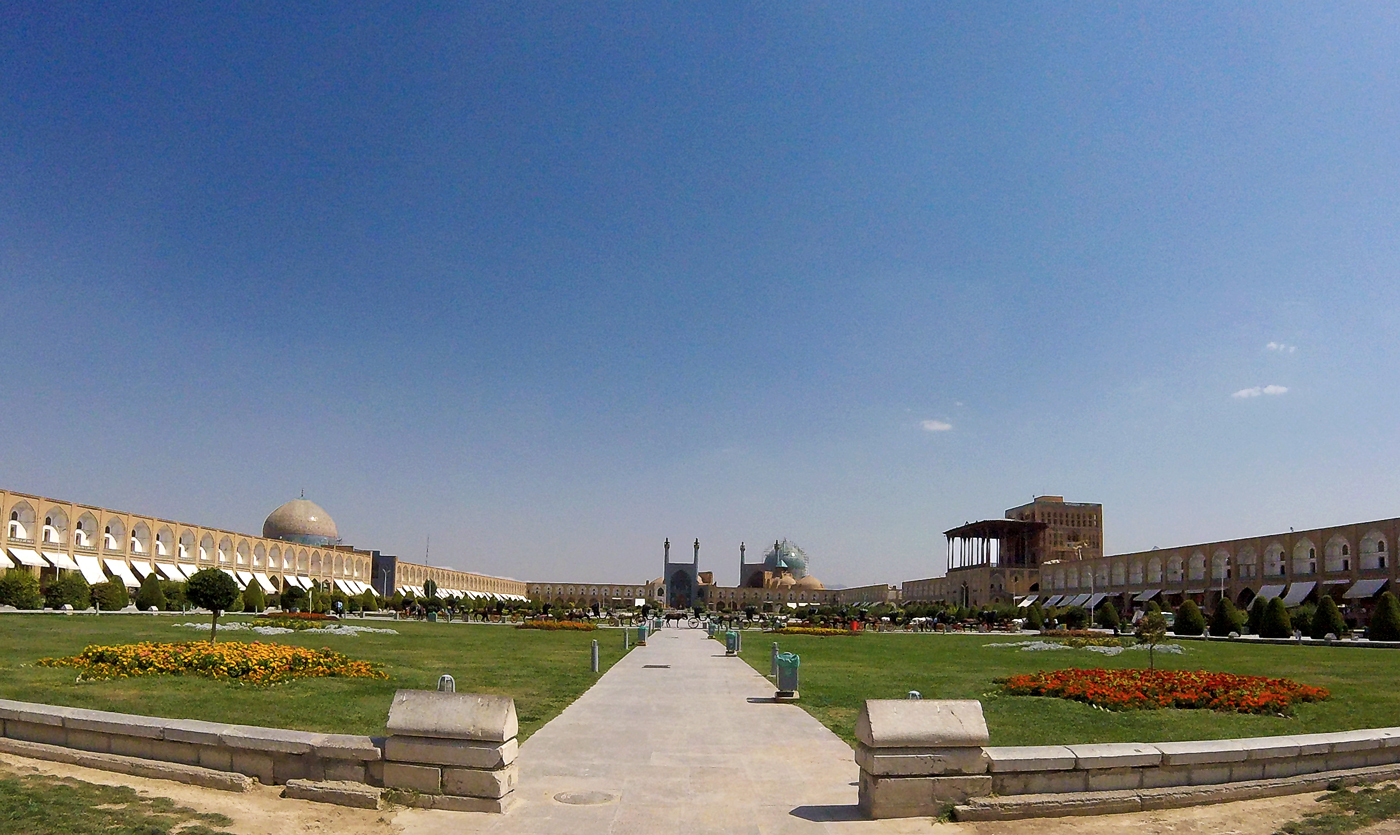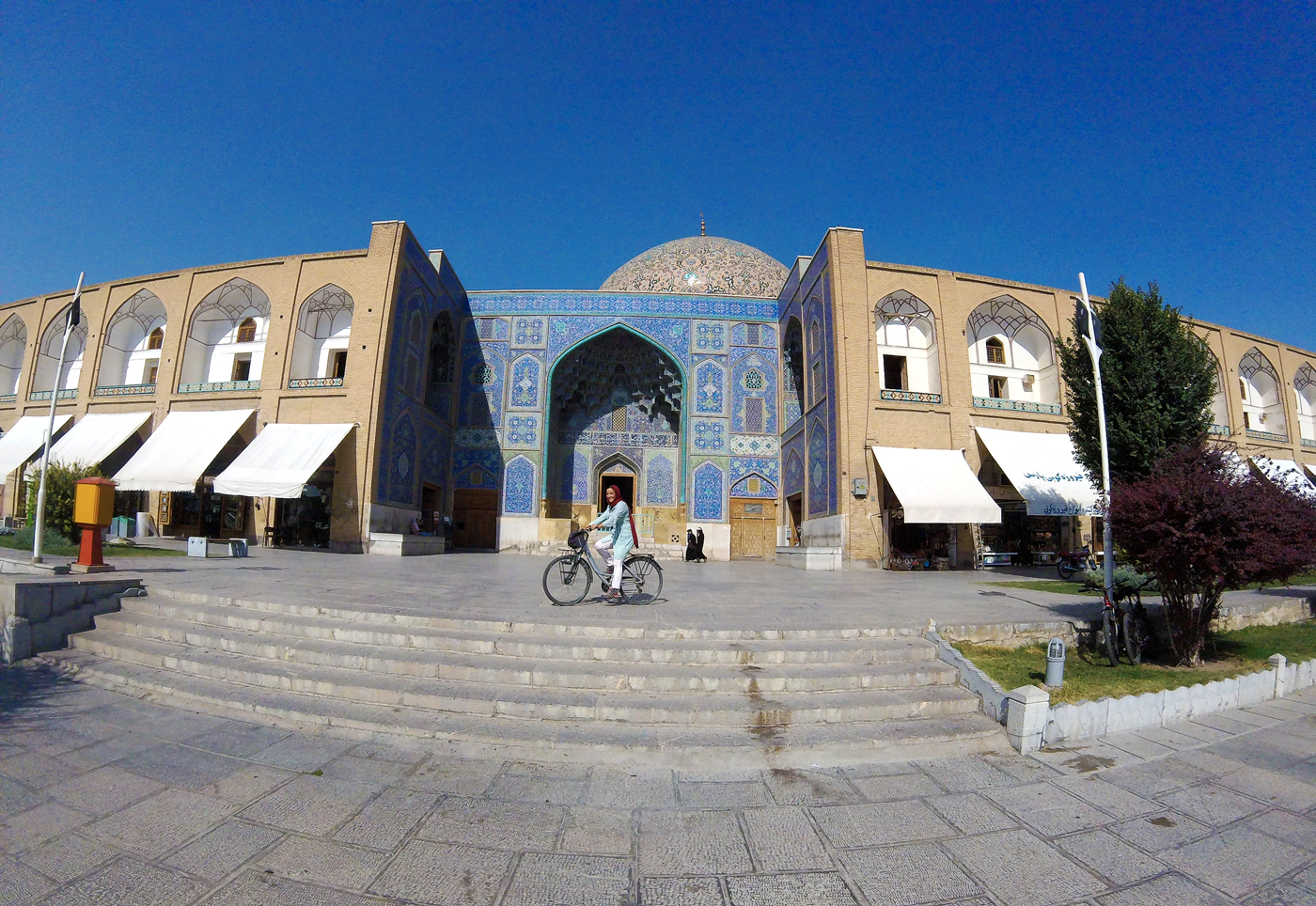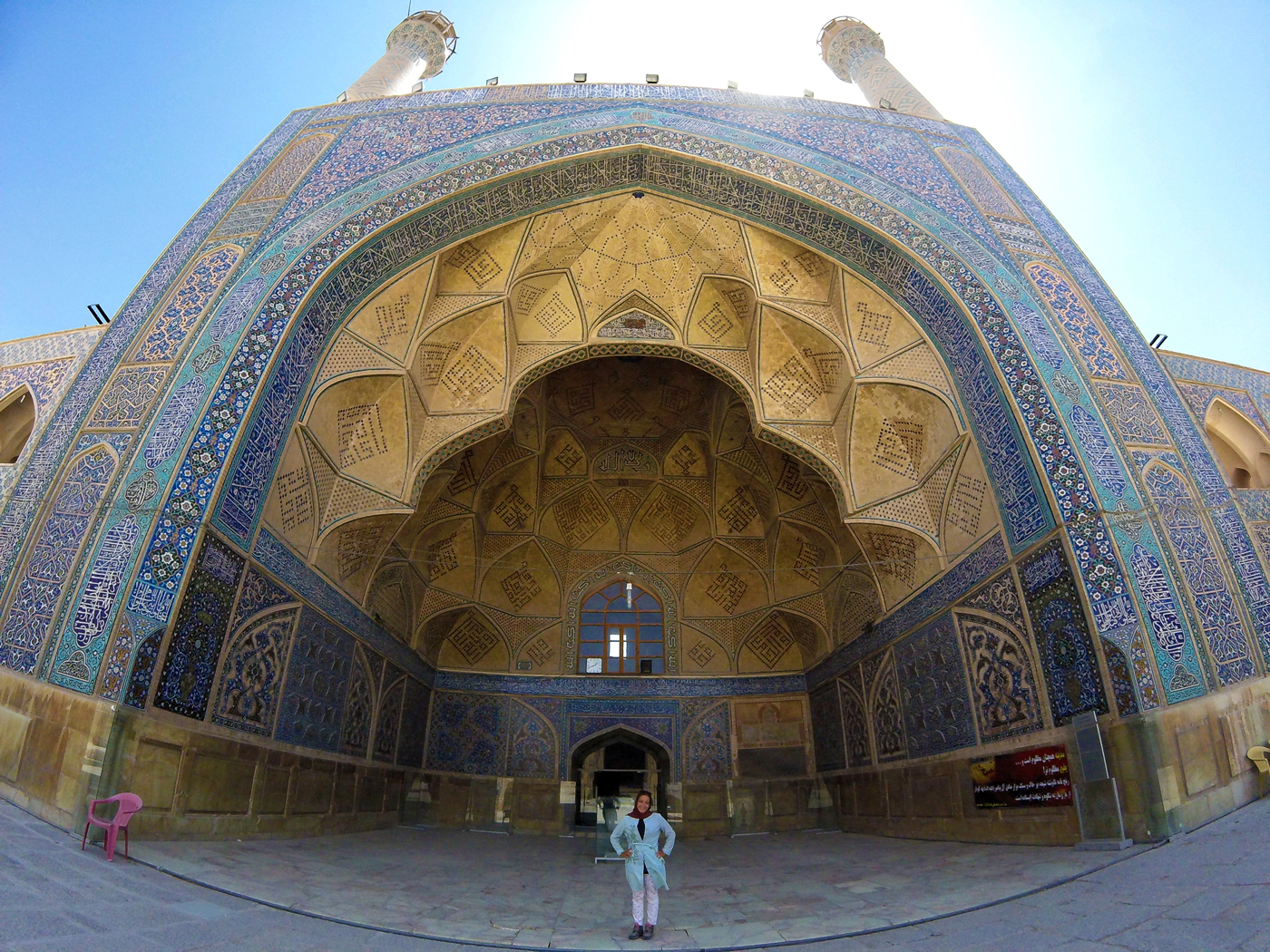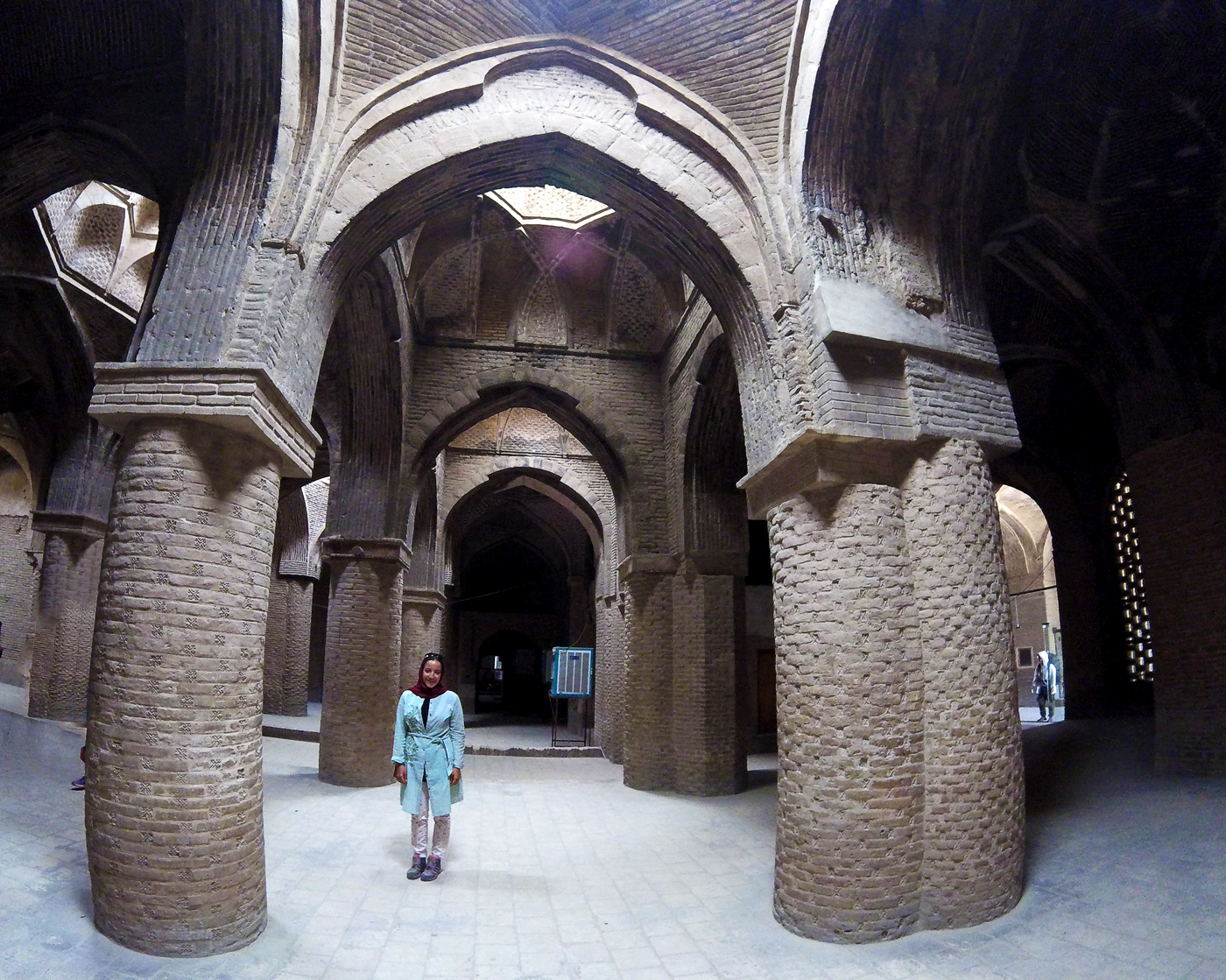 But in Isfahan, the river that watered it no longer flows. This river which made the city an oasis in the middle of the desert, was diverted to the central region of Yazd, on the will of some governors. Today, the inhabitants contemplate with sadness, under the famous bridges of Isfahan, the bed of an empty river.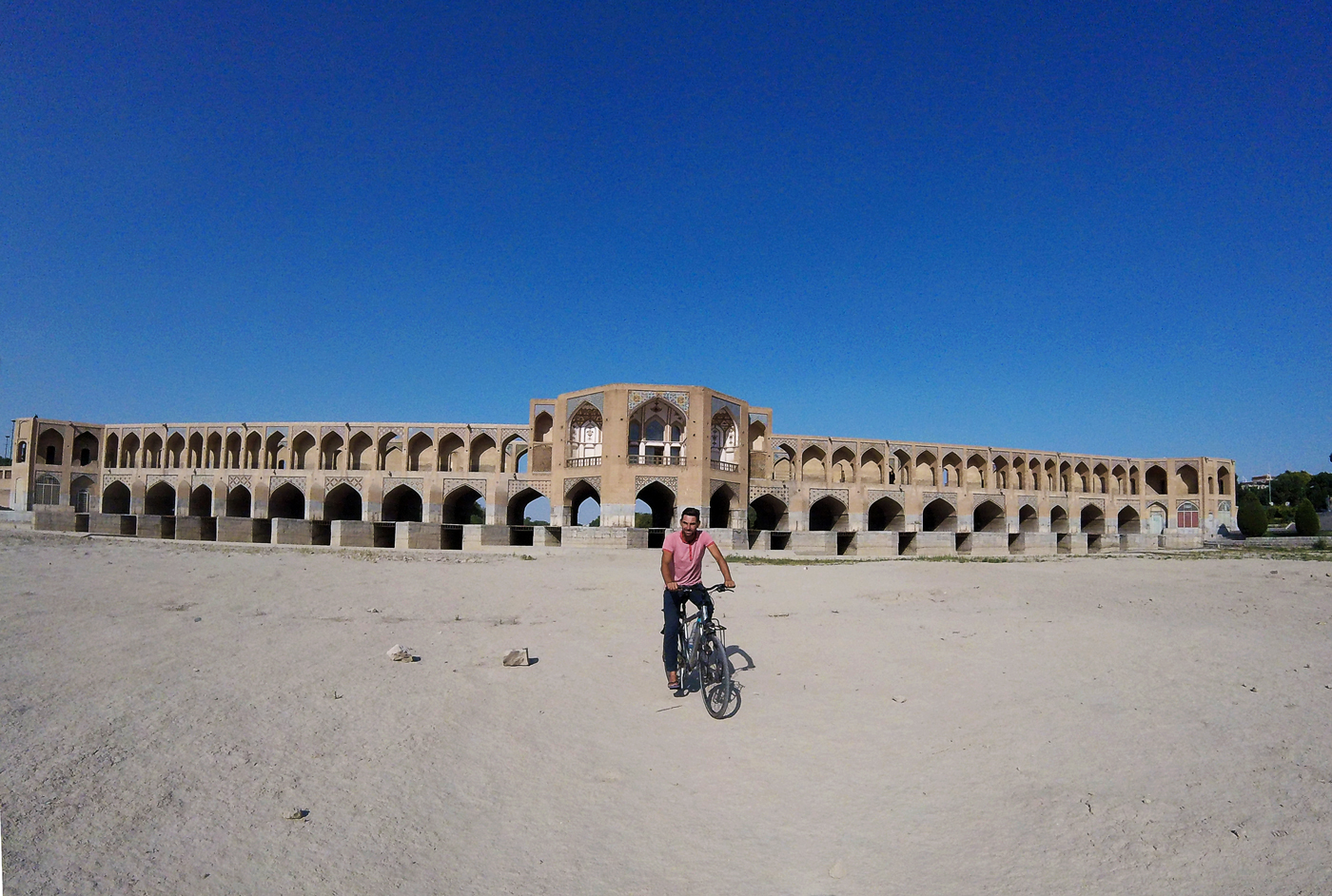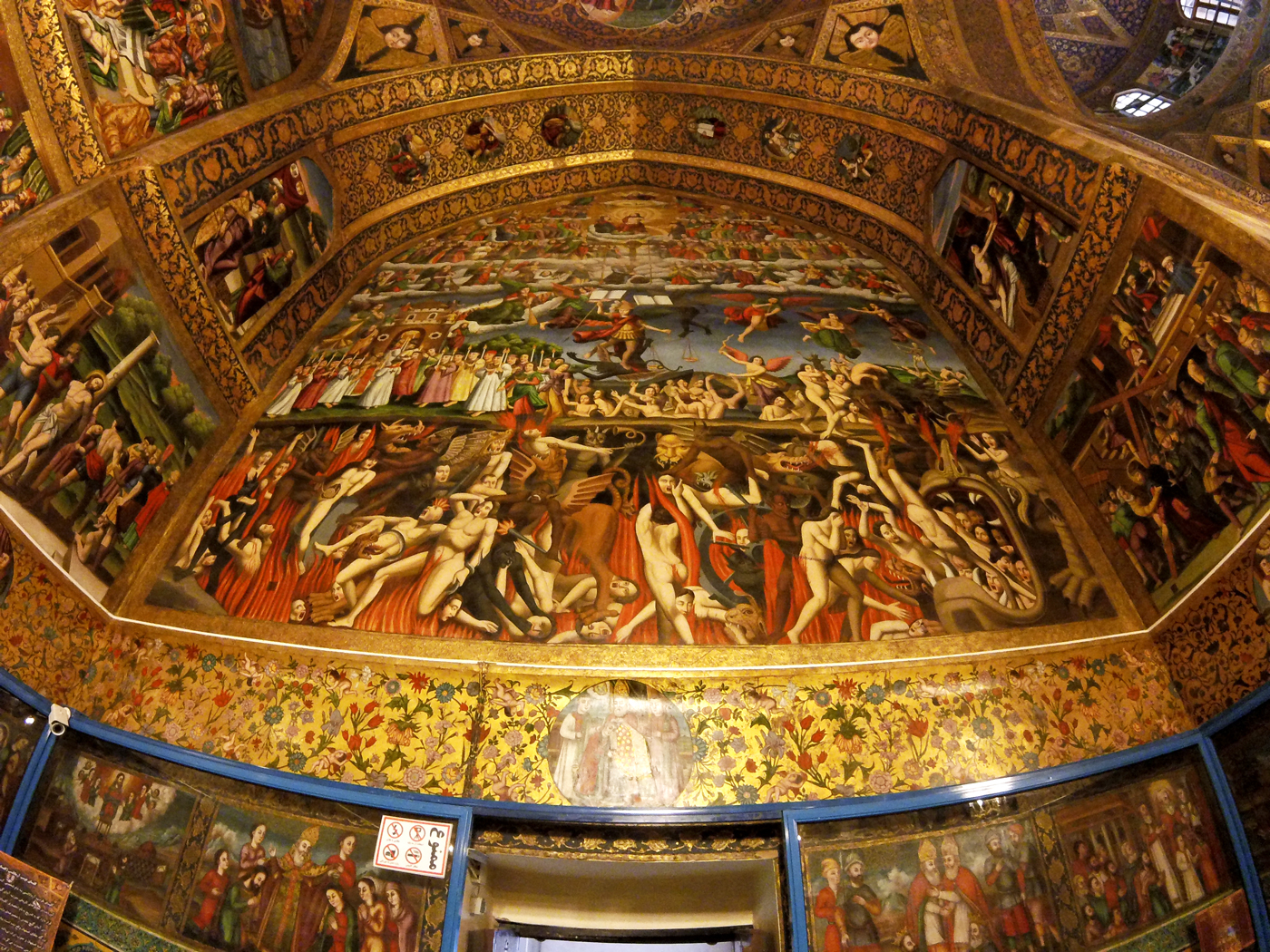 We then stop at the desert of Varzaneh, admire the sunset on the sand dunes.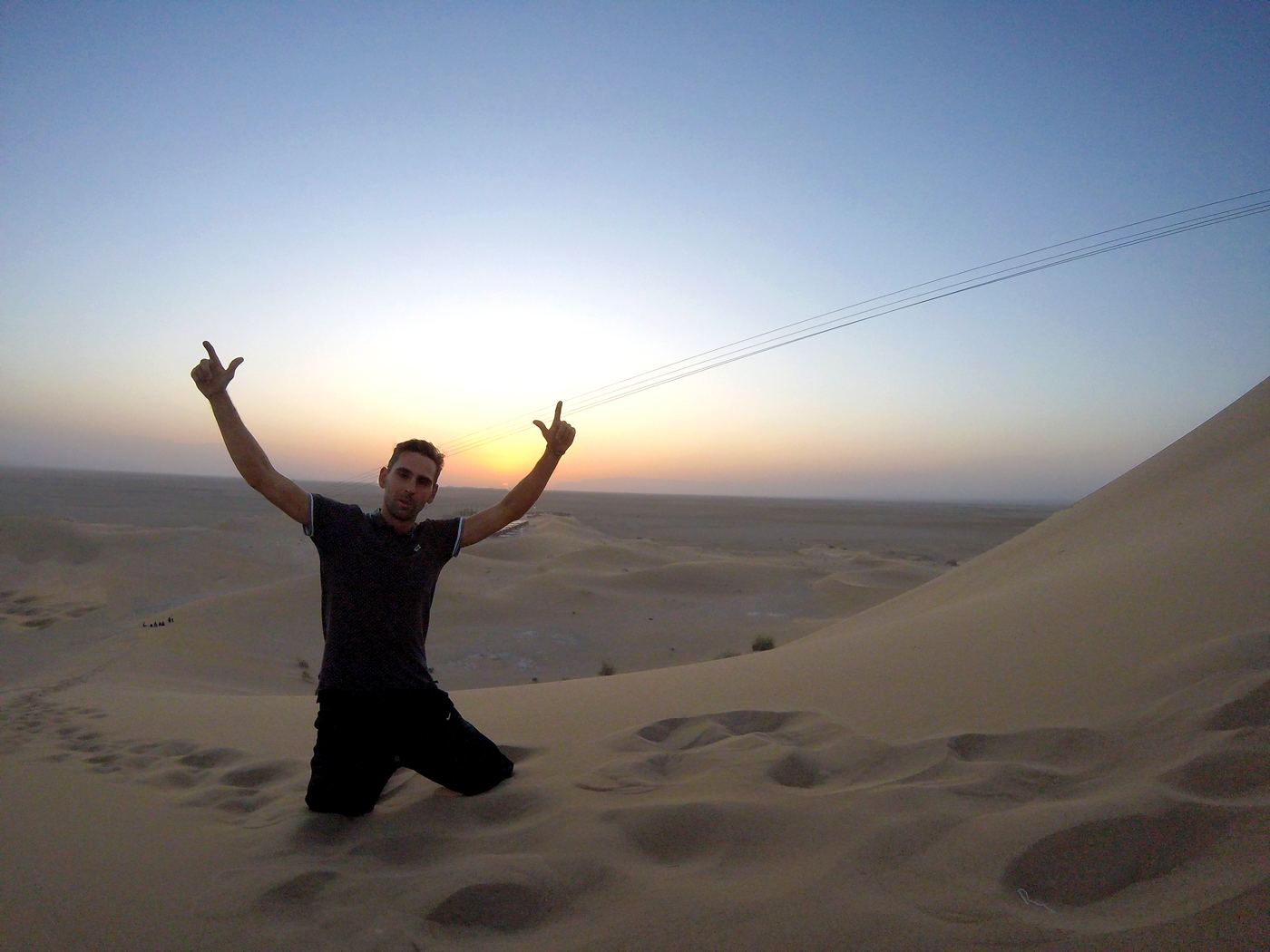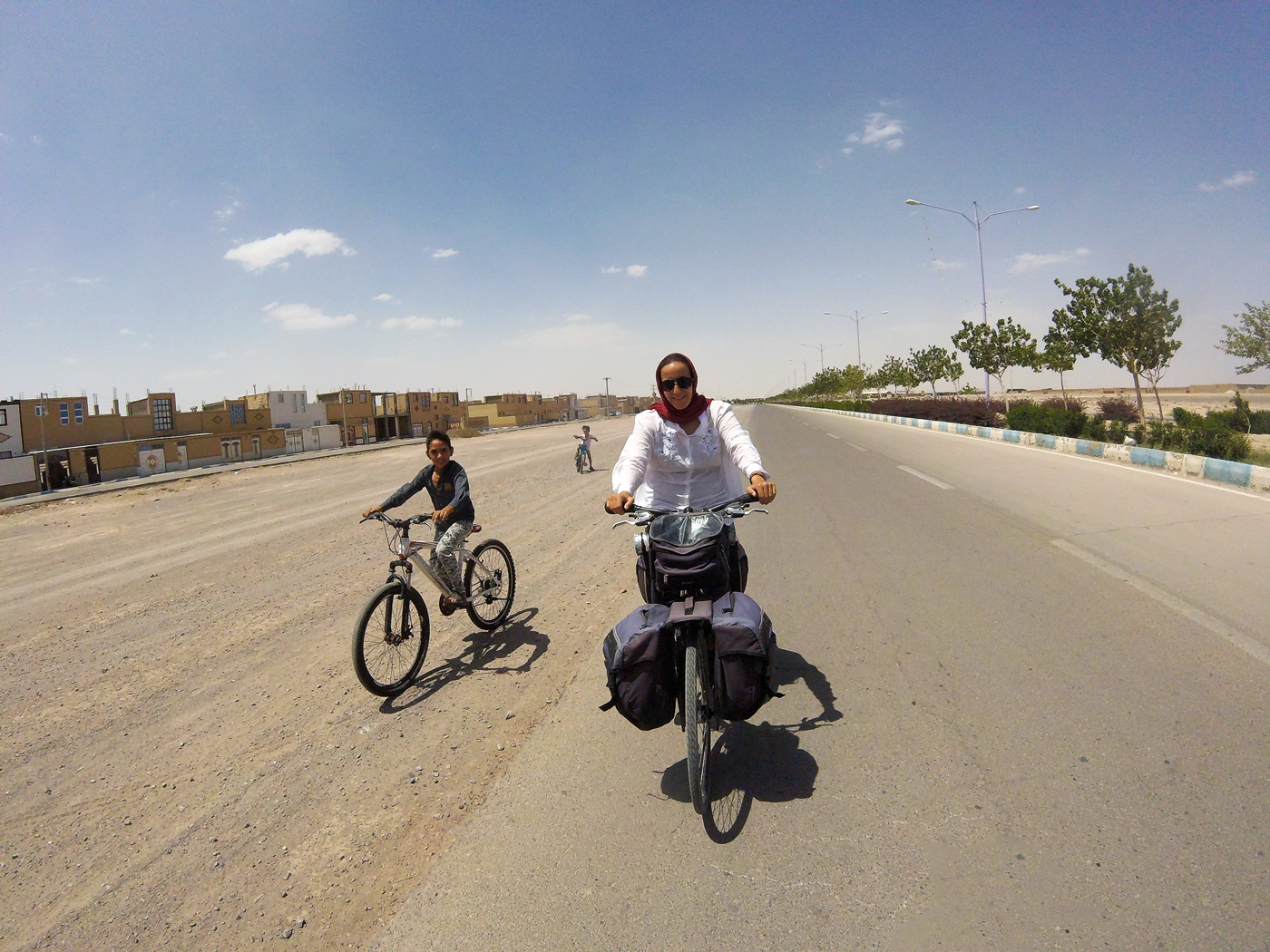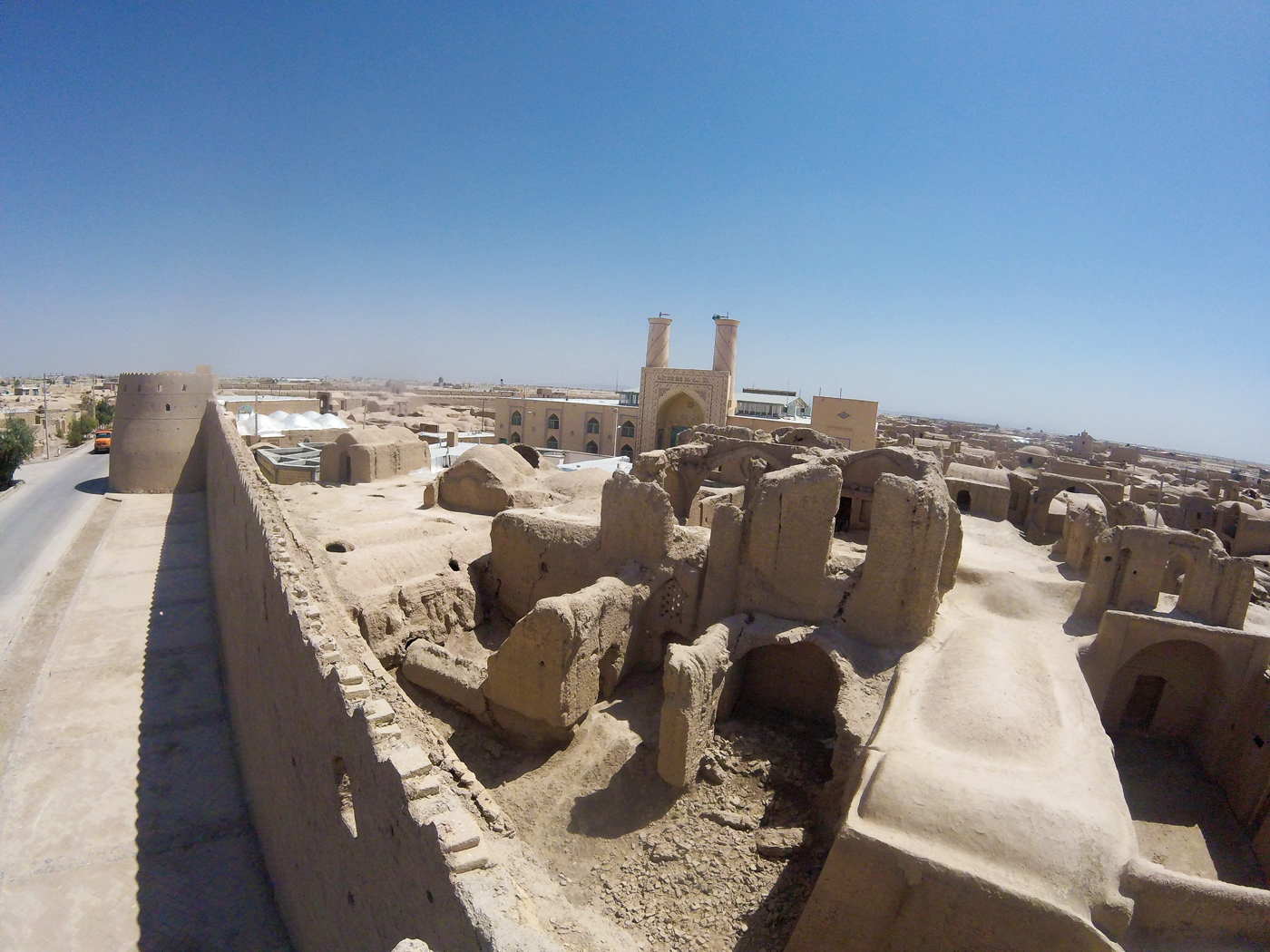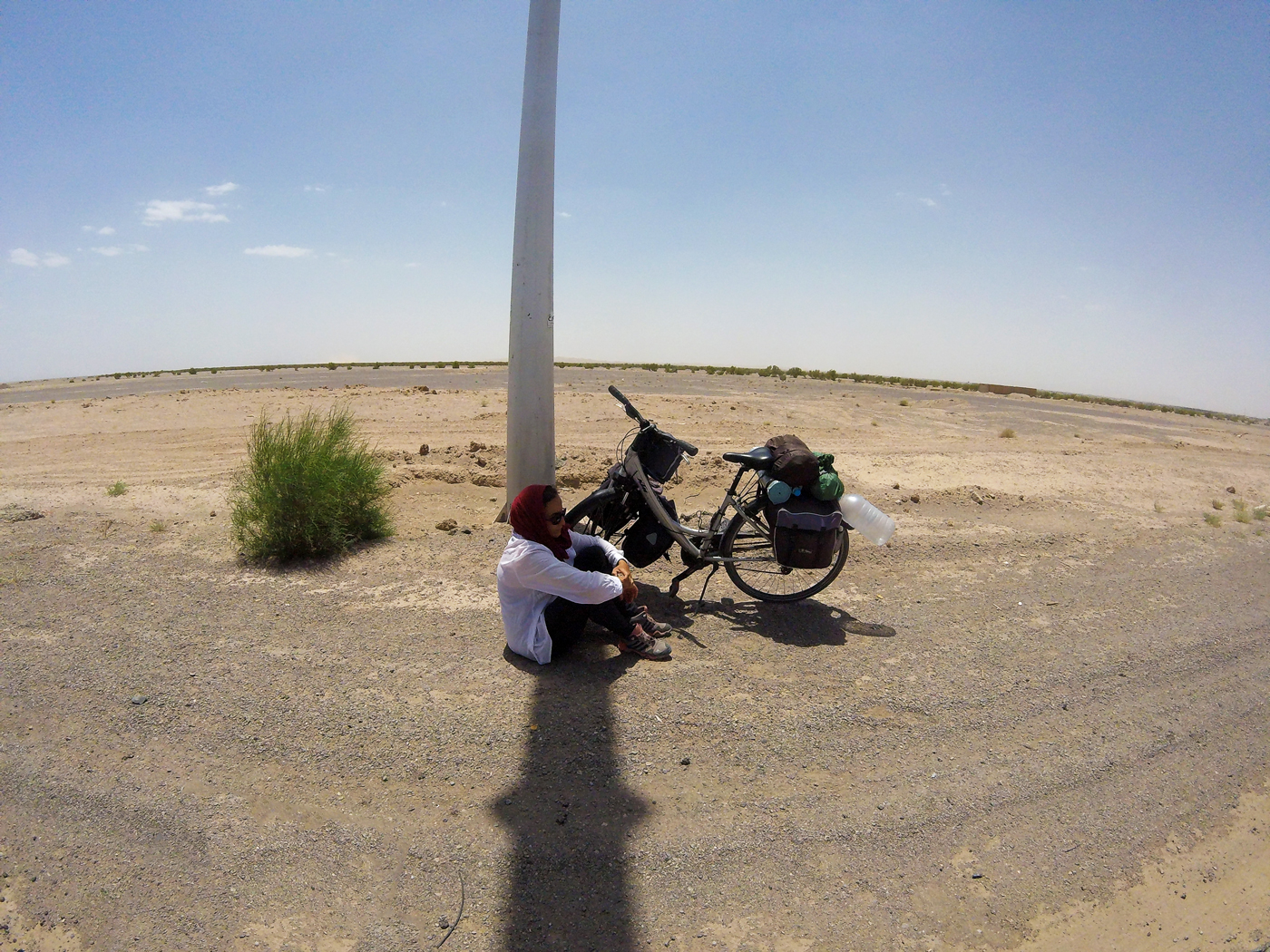 We then go to the town of Yazd. Situated between two deserts, this city is the centre of the Zoroastrianism, the official religion of the Persian Empire before the arrival of Islam in the 7th century (before the Arab-Muslim conquest). From 2pm to 6pm, when the temperature exceeds 40 °, everything is closed and the streets of the city are deserted.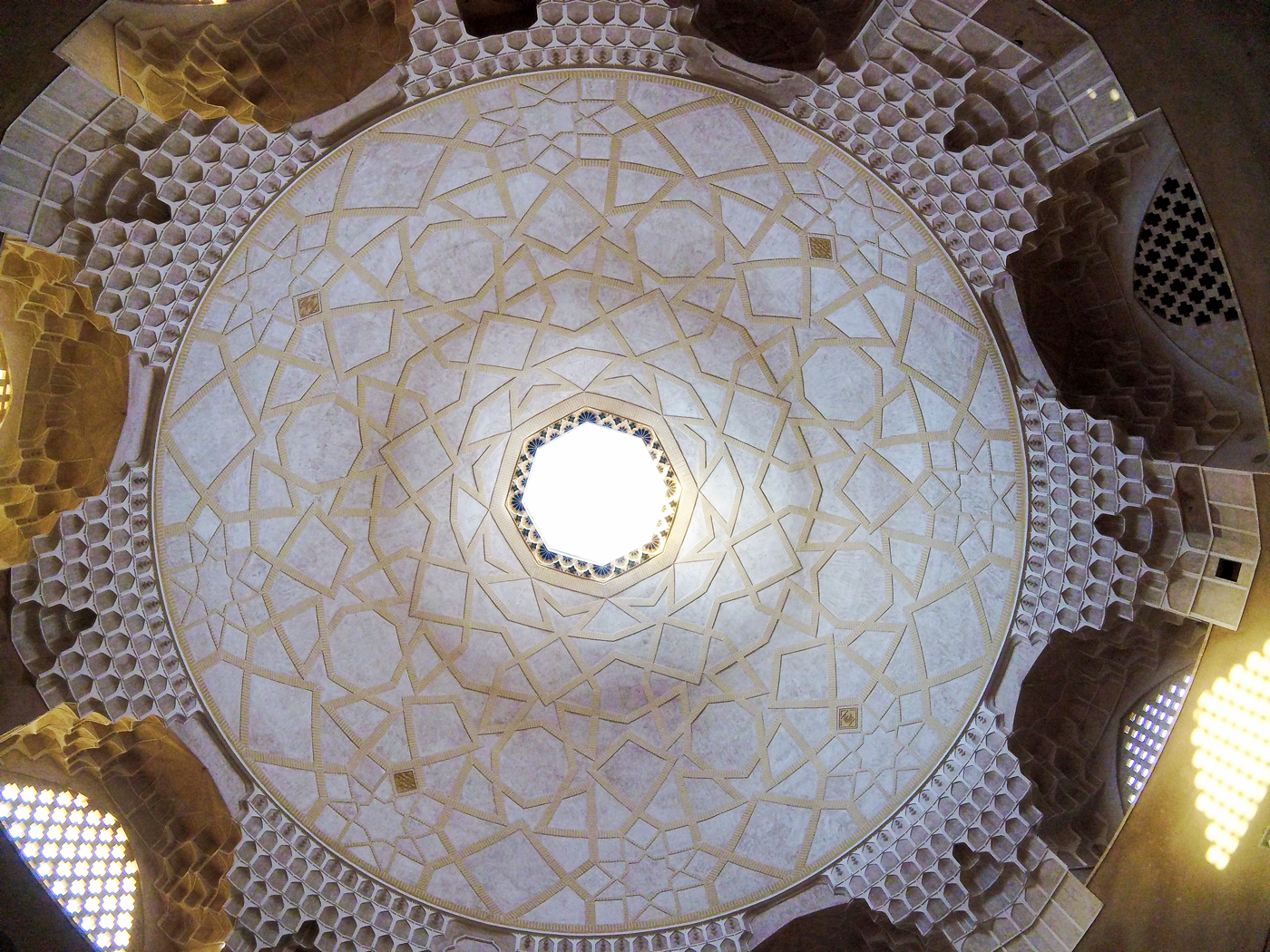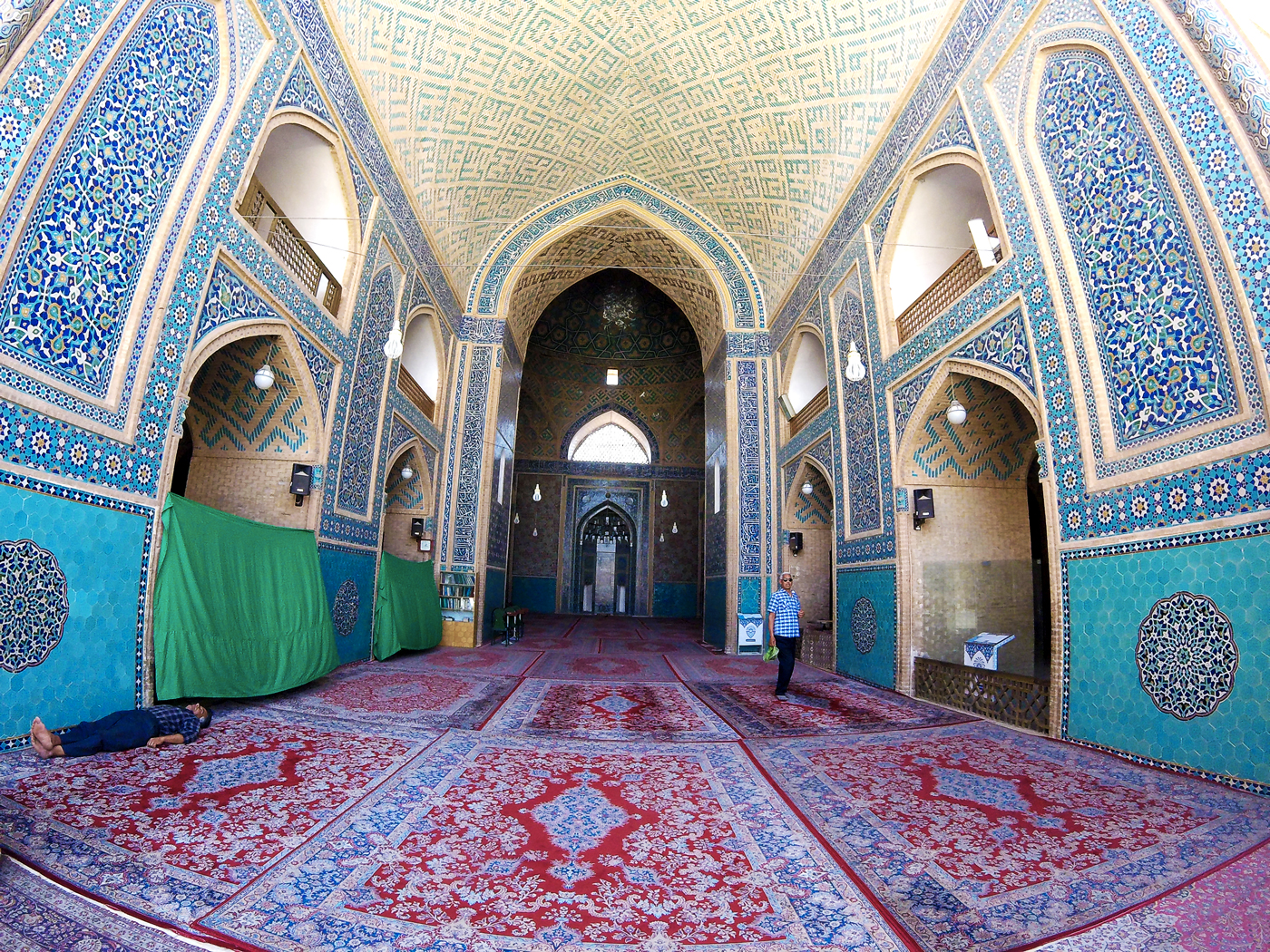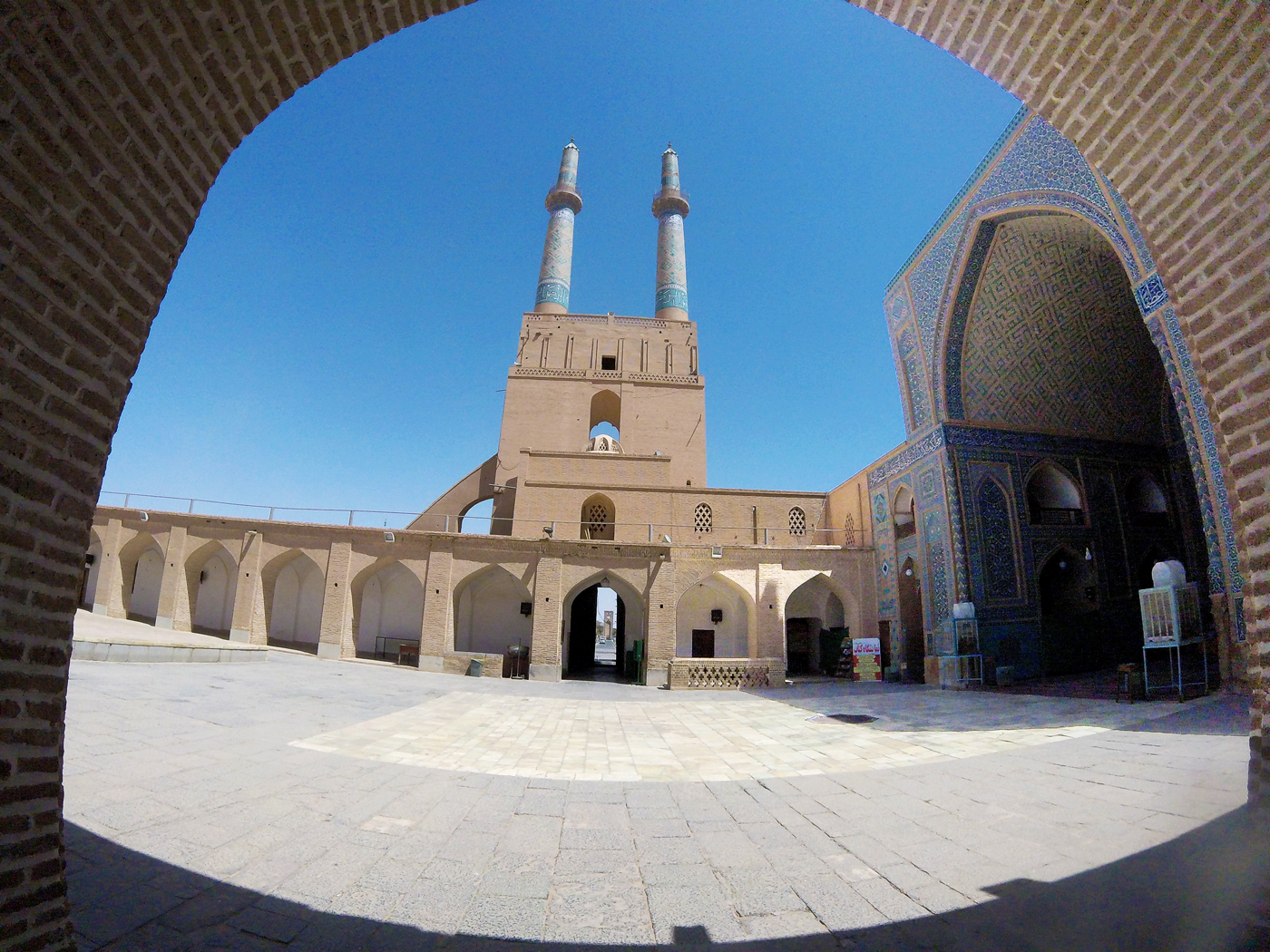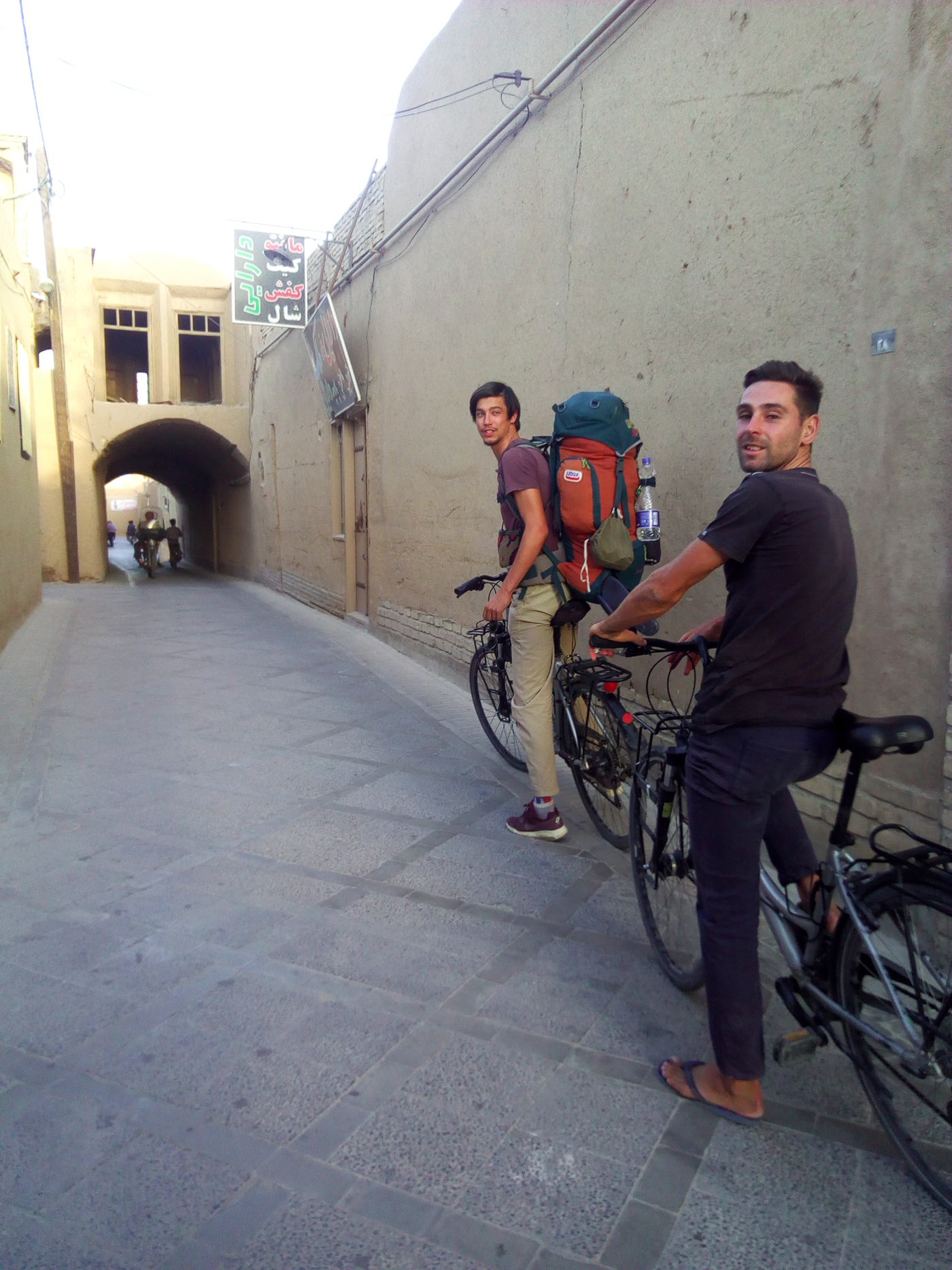 In Yazd we are seduced by the houses in Adobe (Clay inserted in a formwork) and the Bâdgirs ("Towers of the Wind") that dominate the whole city. The Bâdgirs or "wind towers" are an Iranian invention used for centuries to naturally ventilate the houses and refresh the living room. We stay at Rahim, great host, who takes us to dinner with his friends and visit the surrounding area of the city.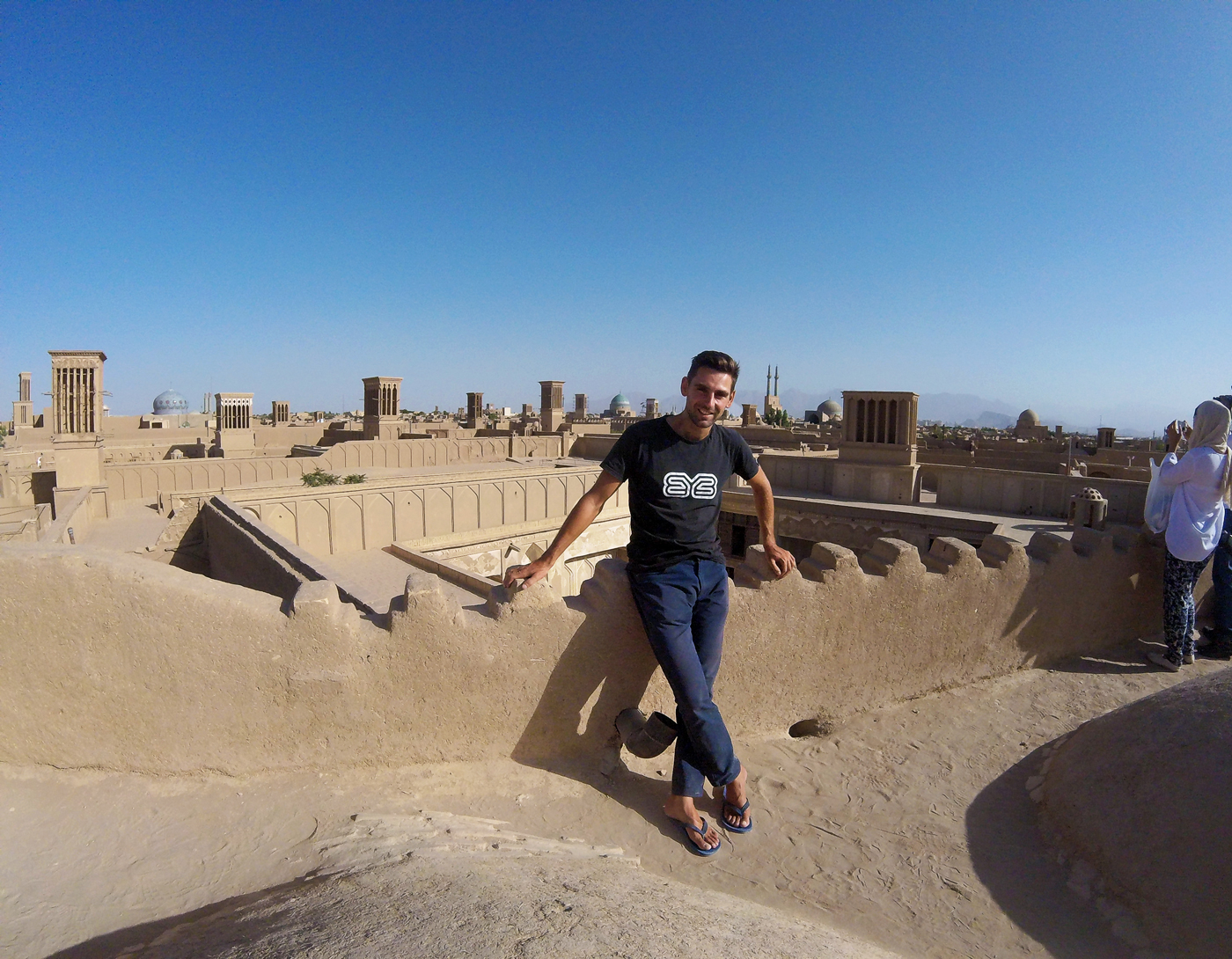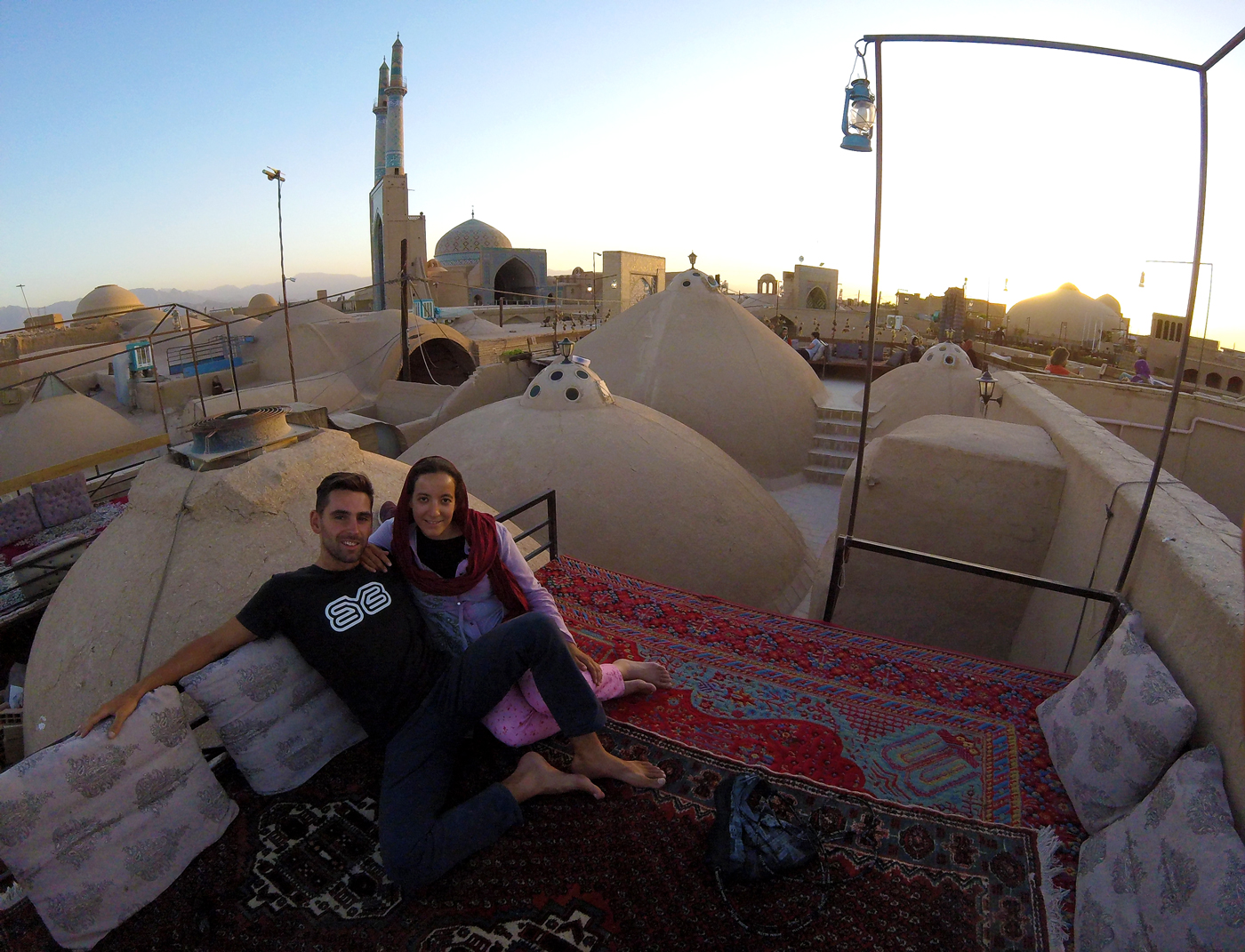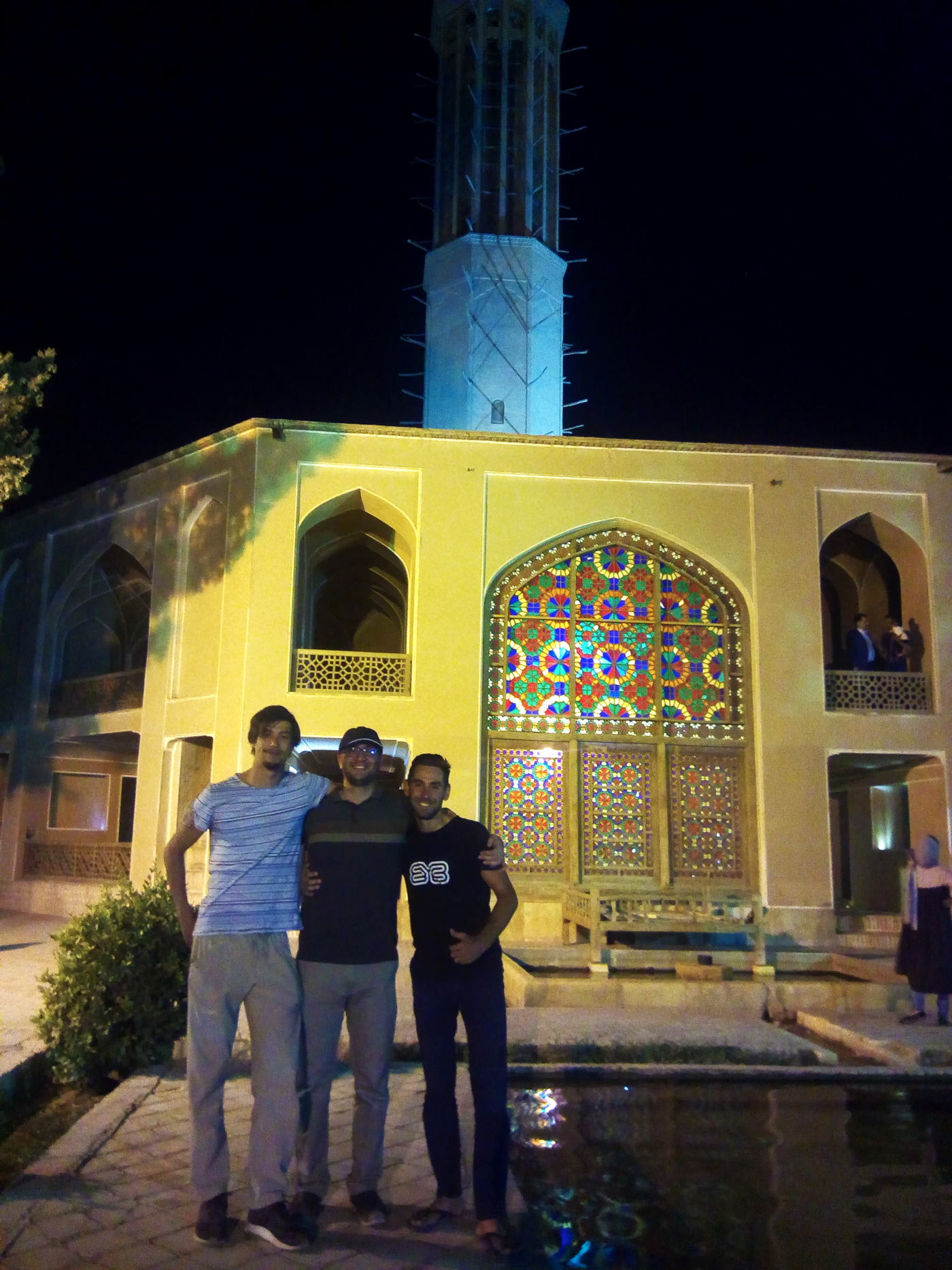 We are now travelling mainly by bus (buses in Iran offer quality service but always negotiate the price of bicycles with the driver). The landscapes of one city to another are deserts crushed with sunshine, without any trees for miles to round. It's dry and very hot!
Rather than the palm of hospitality, it is the palm of the "picnic in any place" that we would give them. Iranians love to be out there and have a picnic! As soon as the sun begins to fold, the famous Persian rugs point their noses and are spread out on the grass or the pavement in often very surprising places such as a roundabout in the middle of a crossroads, the edge of the road , in a gas station or on the sidewalk. Little by little, the evening fills the warm atmosphere of women, men and children who sit on their carpets eating, sleeping, chatting or drinking tea.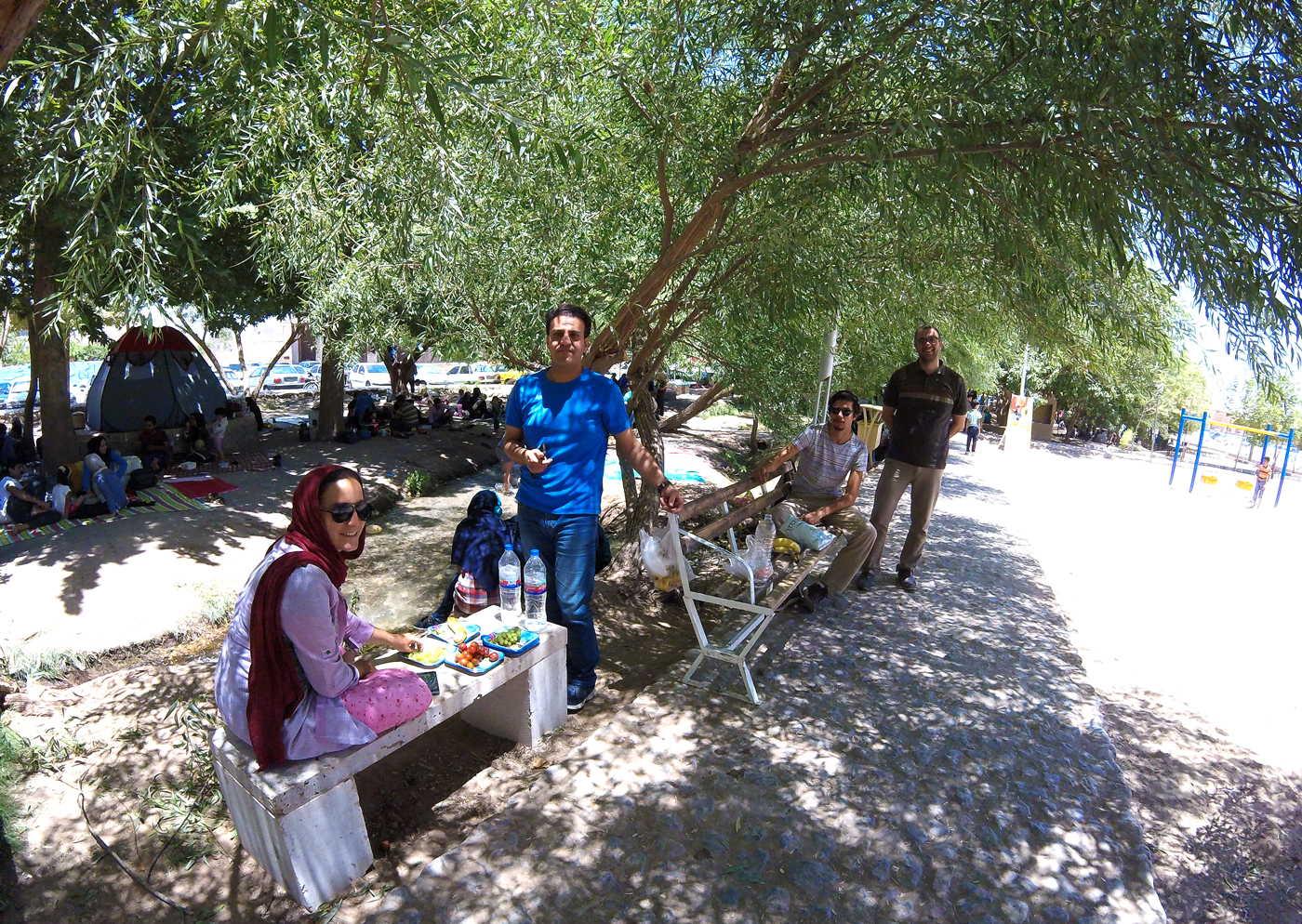 We continue to go down by bus to the town of Shiraz, where we are accommodated in Couchsurfing by Reza and his brother.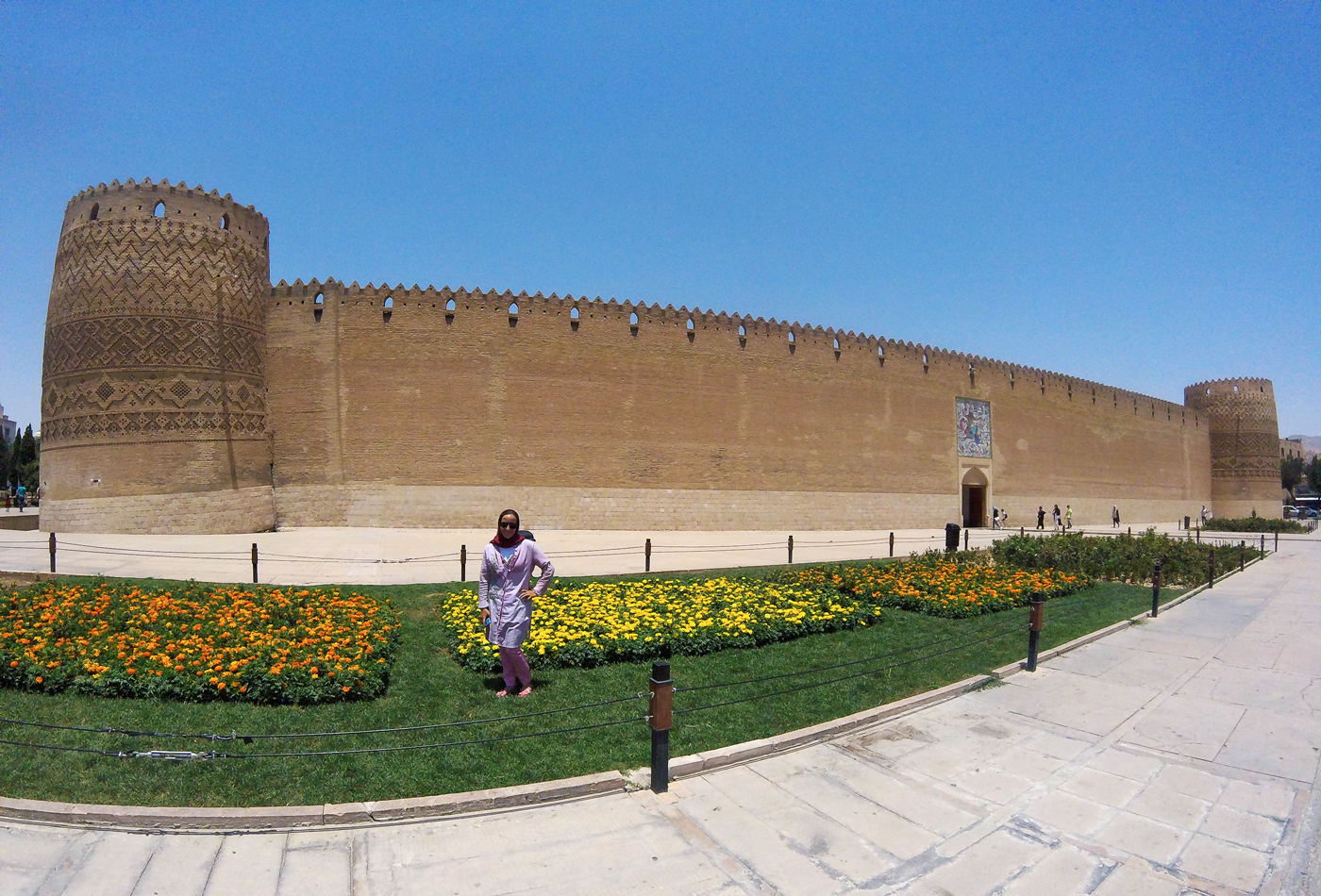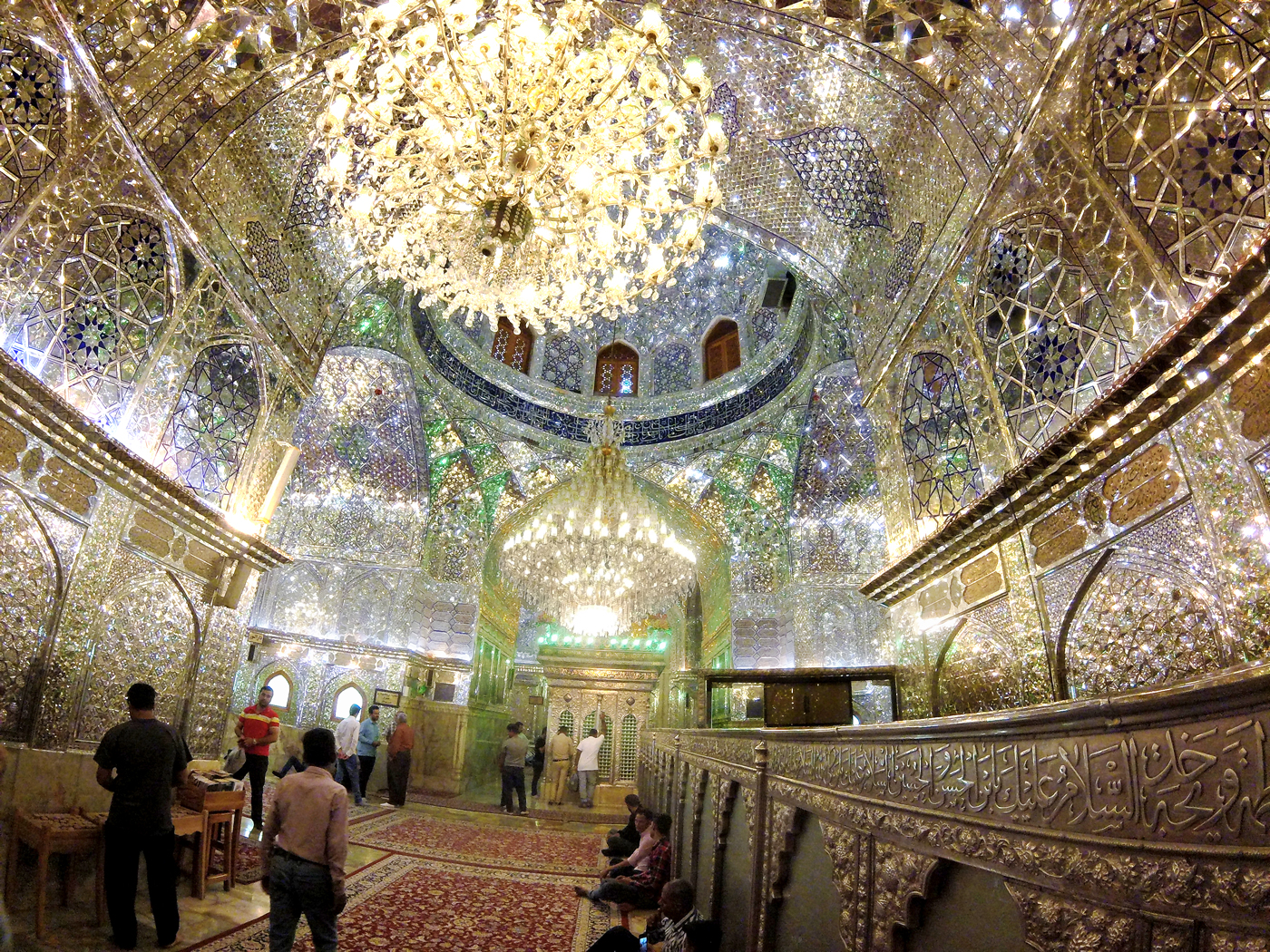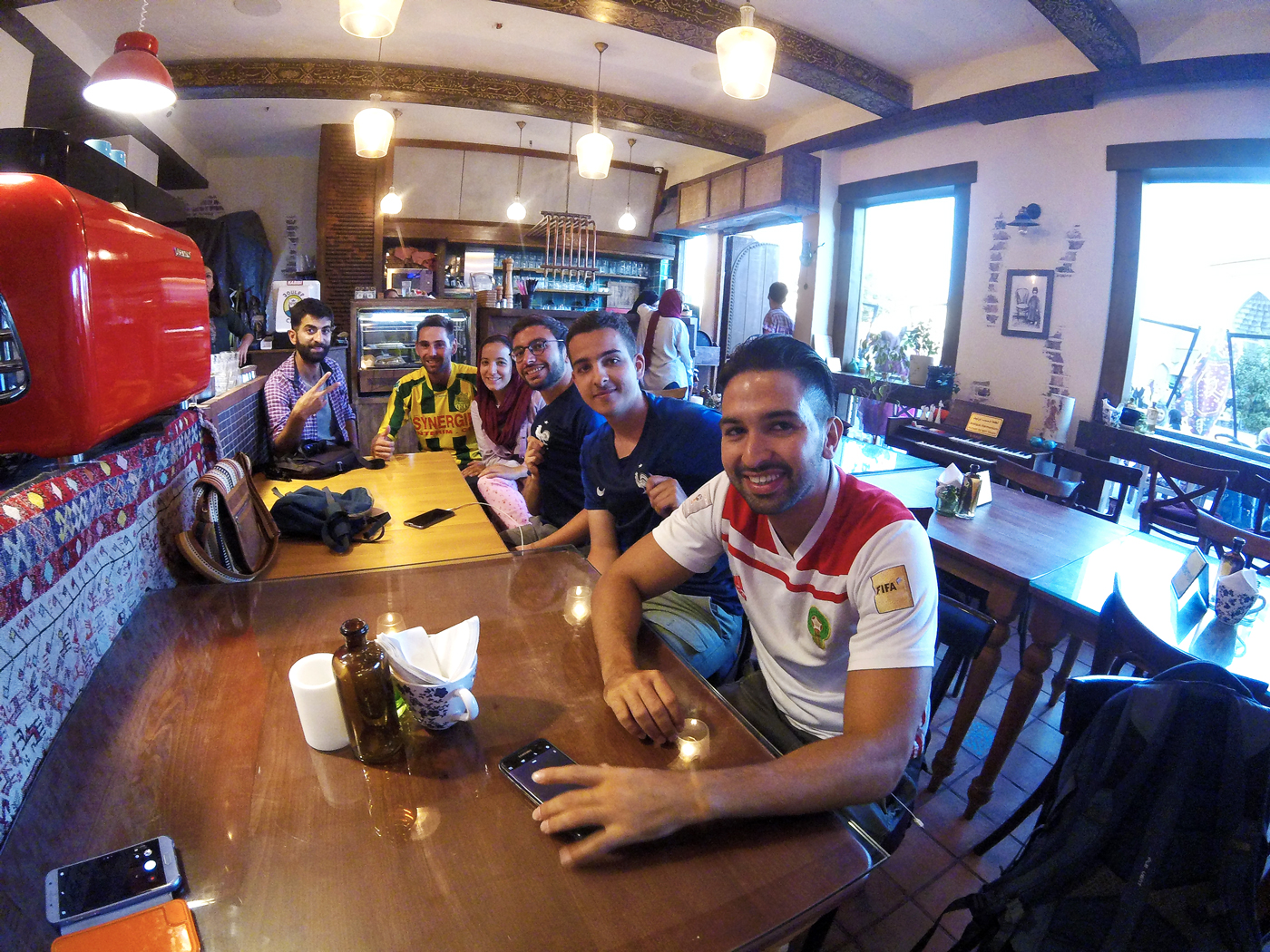 On returning home the second evening to our hosts, after seeing the final of the World Cup in a cafe with a group of French supporters, we realize that $100 have disappeared from our purse. We are chagrined, sick and neither of the two brothers move the little fingers to help us. Exasperated and moral at zero, we lie convinced that one of them has robbed us and that we will never see our money again. When we finally started to enjoy, we are reminded of the harsh reality that here you have to be very suspicious.
We change our ideas by going to visit Persepolis, one of the largest and most important archaeological sites in the world. Vestige of one of the oldest civilizations on the planet, Persepolis was founded in 518 Av. A.D. by Darius I, King of the Persian Empire Achaemenid, where he had built a splendid palace with imposing proportions. This unique archaeological site is one of the most impressive we have visited with its slender columns and walls covered with carved friezes that provide insight into the beliefs of ancient Persians.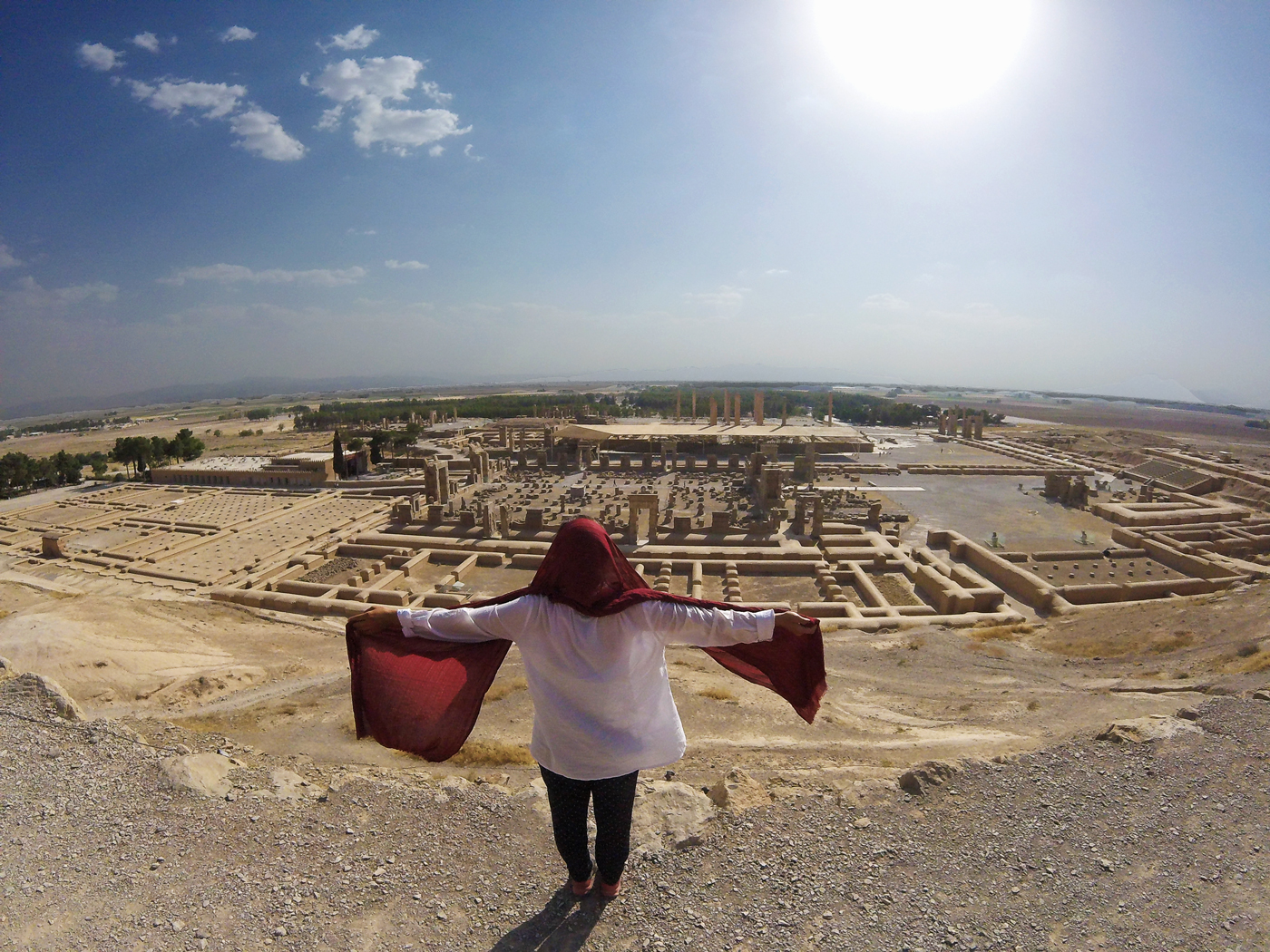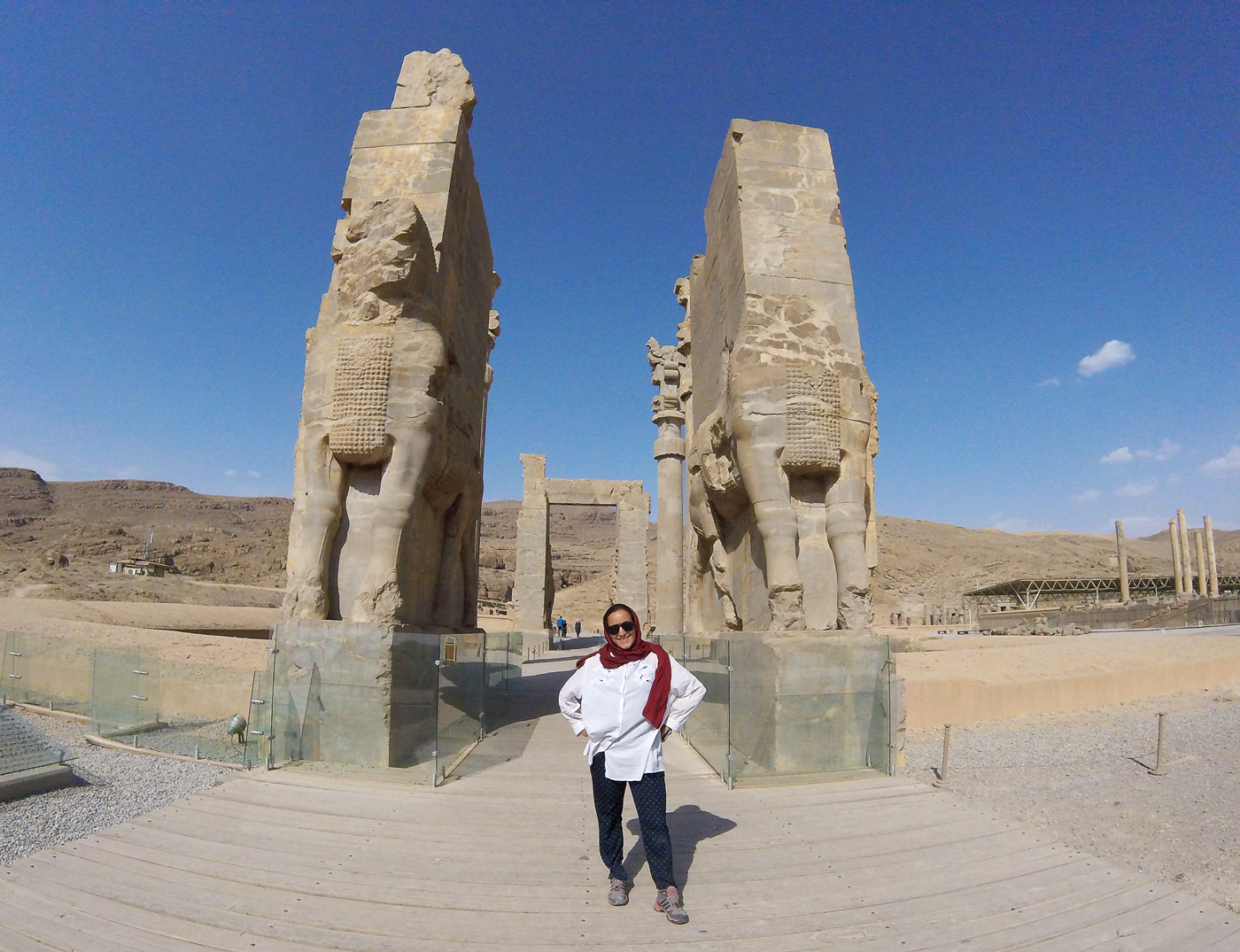 For Persepolis, rather than paying the high price, we decide to go on the road to the exit of the city and find a collective taxi (we pay 150 000 rials). On return, we find a taxi at the exit of the site for 250 000 rials.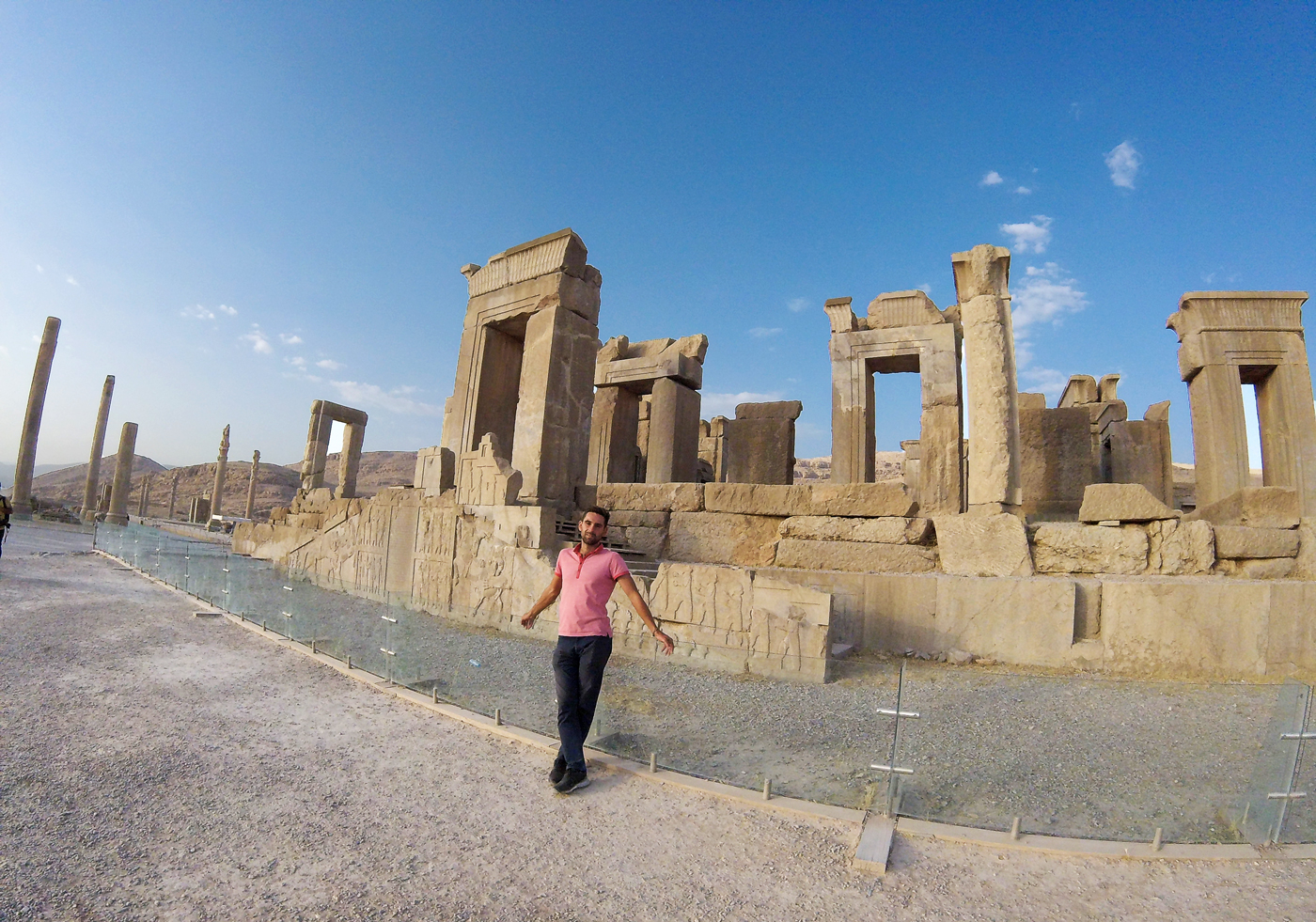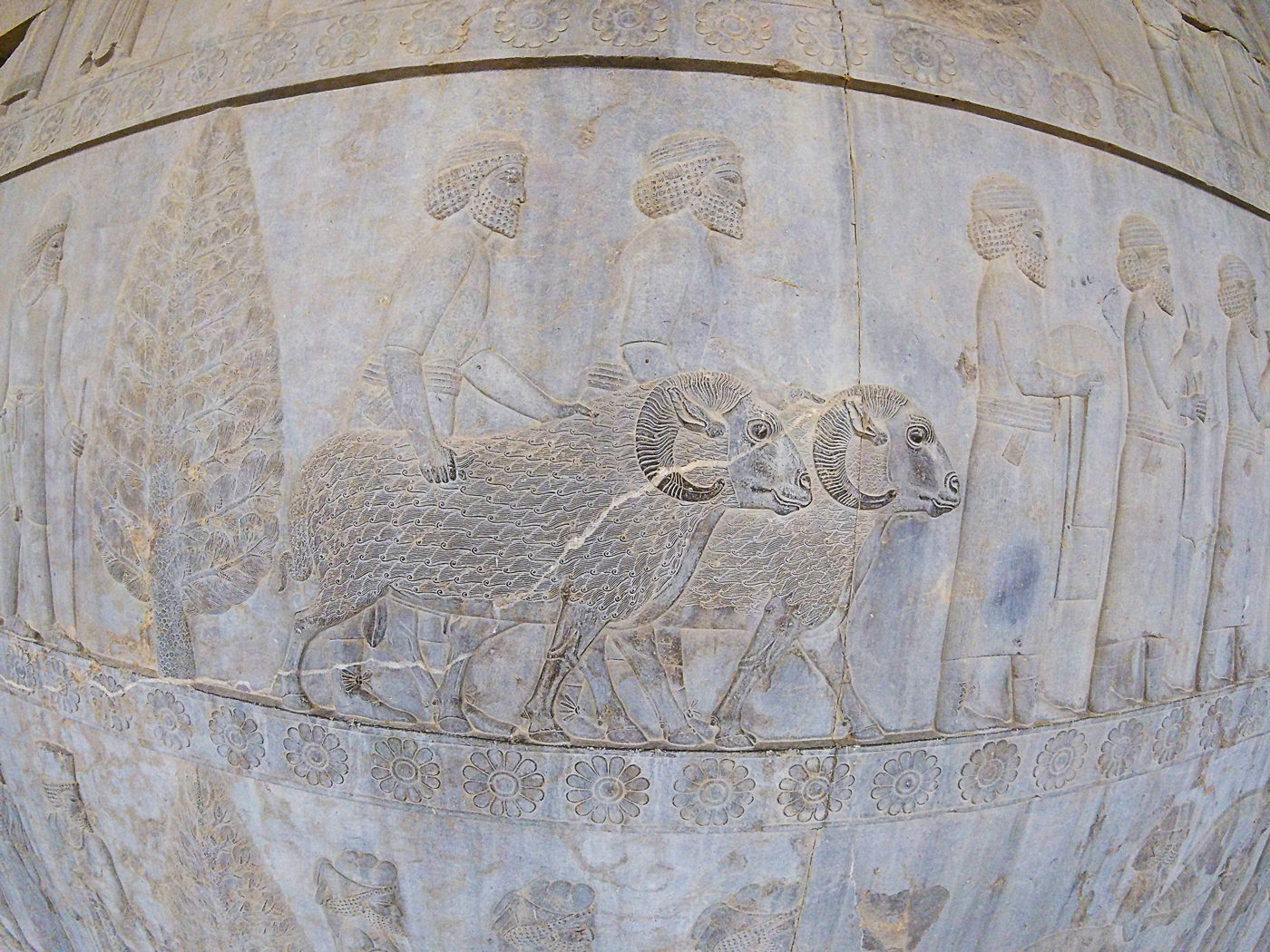 We go up to the bus in Tehran to be able to take the plane that will bring us back home, in France. So, Iran is a country that contains architectural gems, sublime cities where the majestic domes of the mosques colour the landscape and where to walk in the narrow alleys and under the vaulted arches of the bazaars you stances totally. But with a lack of water increasingly glaring and a fragile economy, in a country where the mullah regime imprisons the people in the name of an extreme religious ideology, Iran's future seems uncertain.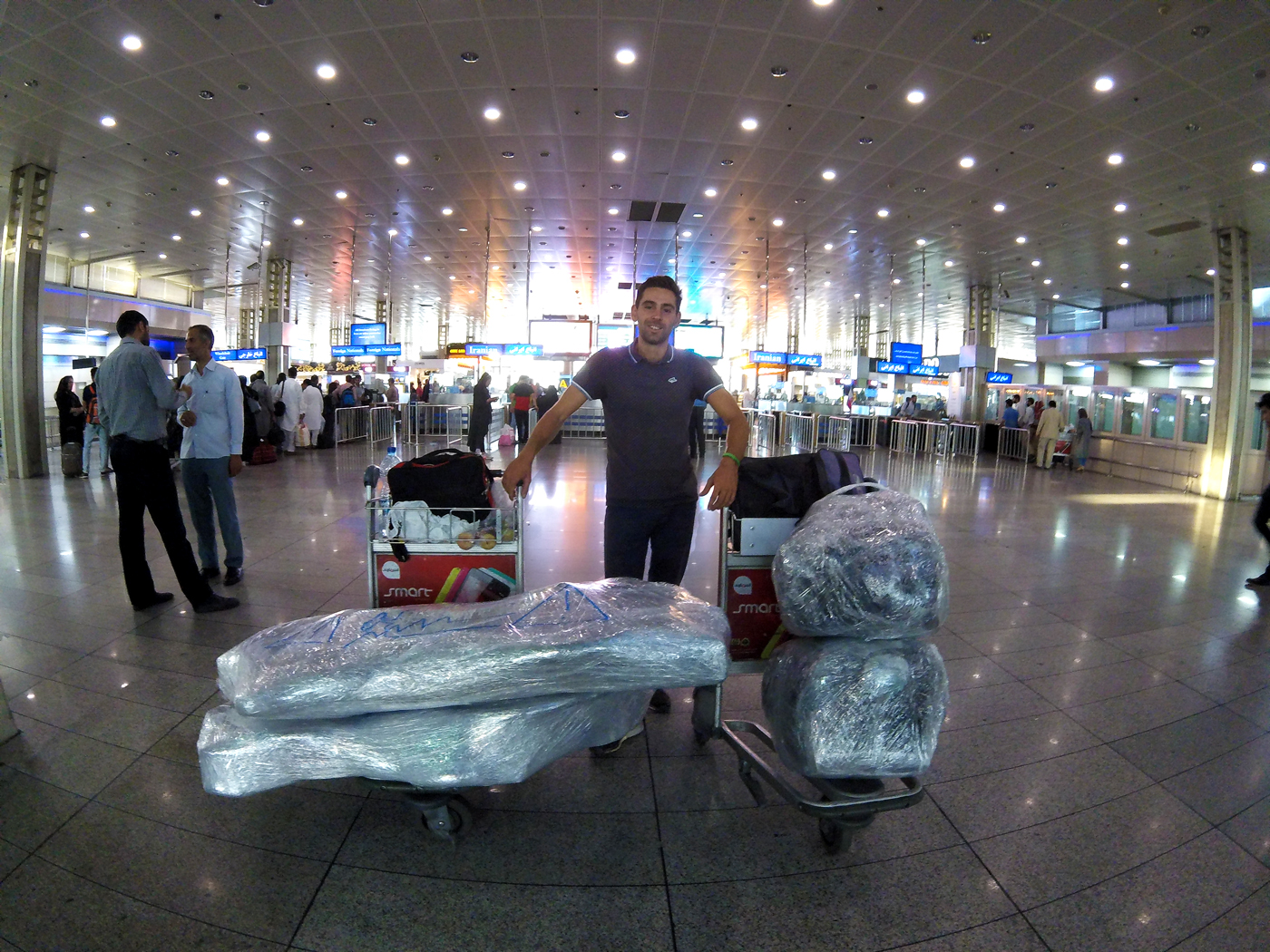 We are happy to return home, in France, to find our loved ones who missed us a lot after 11 months cycling, 11 500 km travelled from Nantes to Tehran! A fantastic journey, rewarding that has proved to us how wonderful the world is and the benevolent people! An unforgettable adventure of sharing, solidarity and mutual aid that shows that wherever you go, we all speak the same language, that of mankind!
Life is an adventure!
See you soon!